What the Elf Gender Reveal Party Ideas
Looking for Christmas gender reveal ideas? Or maybe just a unique theme to get the party started? Well, this What the Elf Gender Reveal theme is perfect for the holiday season. Plus, most are DIY so you can print as many as you need without the extra expenses.
*This post may contain affiliate links, which means if you choose to make a purchase, I may earn a small commission to pay for coffee at no extra cost to you. I greatly appreciate your support! SEE FULL DISCLOSURE HERE
When you're planning a party there a quite a few things to consider. Luckily, we've broken it down into categories to help you navigate what you may need.
What the Elf Gender Reveal Invitations
I may be slightly biased, but these What the Elf gender reveal invitations from Party Treatment are simply too adorable to pass up. What's great about our shop Party Treatment is that you can personalize the text of the invitation yourself and print as many as you need or even save as a JPEG and send as a text or post on social media. Plus, no waiting. You get access immediately after purchase. You can find them on the main website here or on the Etsy shop and can even try before you buy using this demo link for the dark tone elf and this demo link for the light tone elf
Elf Decorations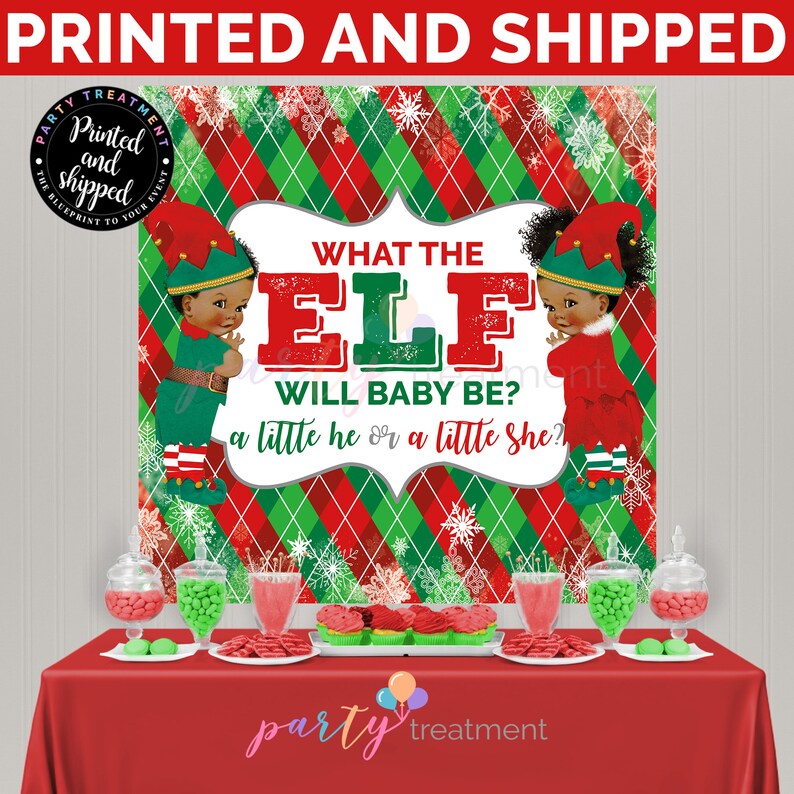 Having a backdrop is the perfect way to set the tone. It can go behind a dessert or food table. You could also use it as a scene setter for taking pictures. But don't forget about balloons, banners and centerpieces. Be sure to incorporate Christmas lights, snow flakes, candy, and even miniature Christmas trees.
What the Elf Gender Reveal Shirts
If you're having a gender reveal, you might as well go all out! The mommy and daddy to be, along with those closest to them, could all wear matching What the Elf shirts. These can be found on Etsy or right on Amazon.
Games
While games for guests are typically reserved for baby showers, that doesn't mean you can't have fun. Make sure you have a voting board to get everyone's guesses before the big reveal.
Also, because it's the holidays, you can incorporate some cool minute-to-win it type games with the teams divided based off being team boy and team girl.
Food, Drinks & Sweets
Gender reveals are usually pretty laid back, so a complete spread of food isn't necessary. But, if you're planning a gender reveal at night, as opposed to the morning or afternoon, then don't let your guests go home hungry. As for sweets, a cake is expected, and can be used to incorporate the reveal. I also think cute gingerbread cookies and Hershey kisses would fit the event.
For drinks, having a hot cocoa bar would definitely make it festive. Consider grabbing a hot beverage dispenser to keep the milk hot and small containers to hold the cocoa powder, chocolate shavings, peppermints, and other array of toppings!
What the Elf Gender Reveal Favors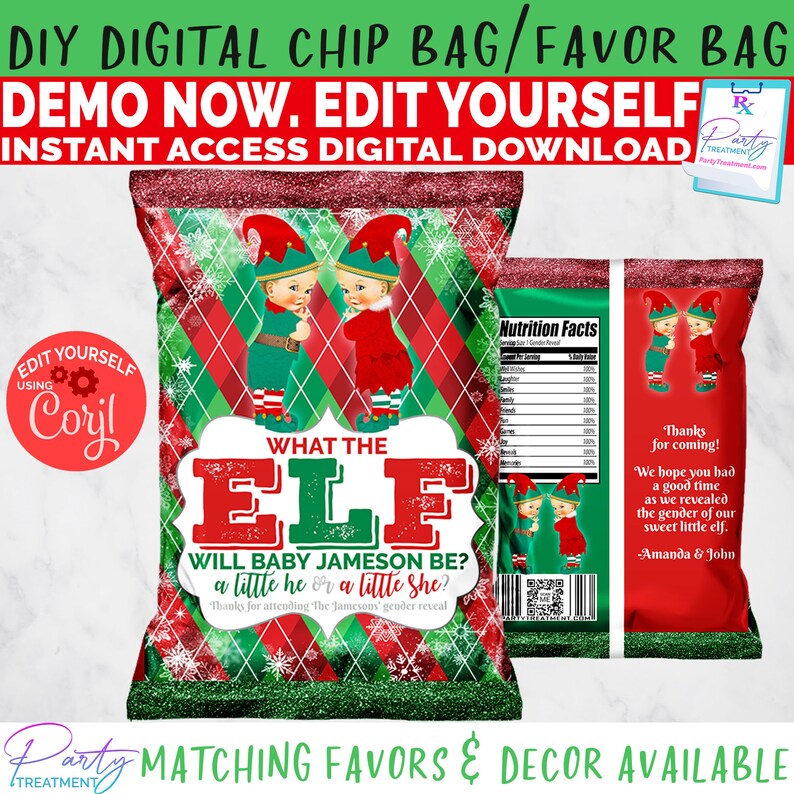 Finally, don't let your guest leave empty handed. While it's not required to have favors at a gender reveal, it is a sweet gesture. It could be as small as a jar of peppermints or a bag of Hershey kisses. You could even use chip bags like these as to-go bags to stuff candy and cookies inside. If you don't know how to assemble chip bags, check this post out.
QUICK NOTE:
Love pretty, parties, crafts and free? Don't be a stranger and CLICK HERE to follow me on INSTAGRAM or join the facebook group. If you think your friends might need this, share the link to the post and pin the image below. Do that, and you can expect tons more tips, tutorials and freebies!