It's a Boy Story Baby Shower Ideas
Looking for a unique boy baby shower theme? Check out this list of Boy Story baby shower ideas.
*This post may contain affiliate links, which means if you choose to make a purchase, I may earn a small commission to pay for coffee at no extra cost to you. I greatly appreciate your support! SEE FULL DISCLOSURE HERE
The movie Toy Story has a special place in many of our hearts. Being able to incorporate it into a baby shower makes it even more special. I even created a complete collection of Boy Story printables. Below you'll find all the Boy Story baby shower ideas you'll need for your shower.
IT'S A BOY STORY BABY SHOWER INVITATIONS
Every party starts with an invitation! You can send it digitally via text or shared on social media, but I'm definitely more of a printed invitation kind of party planner. Invitations make for a great keepsake. Check out these Boy Story baby shower ideas for invitations below.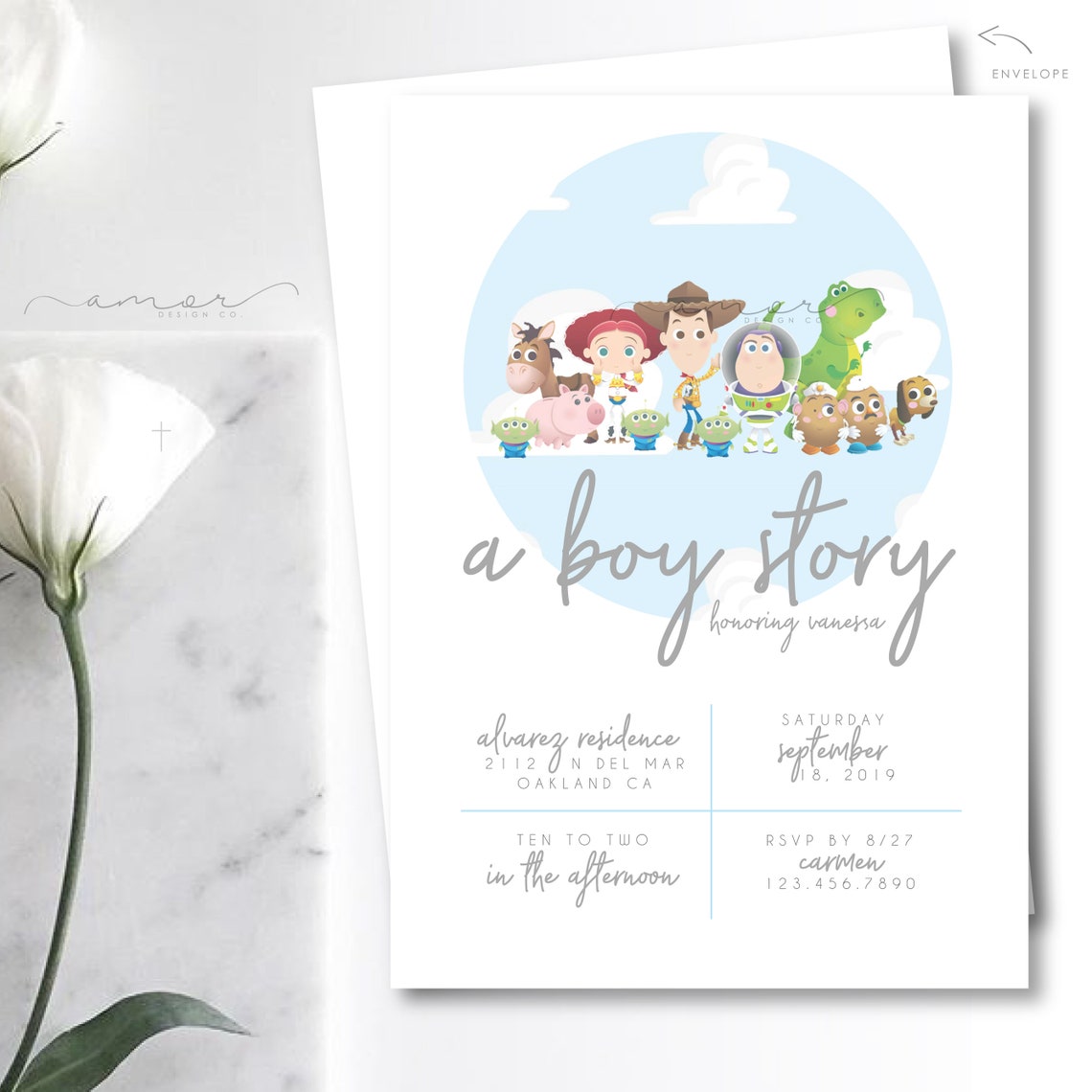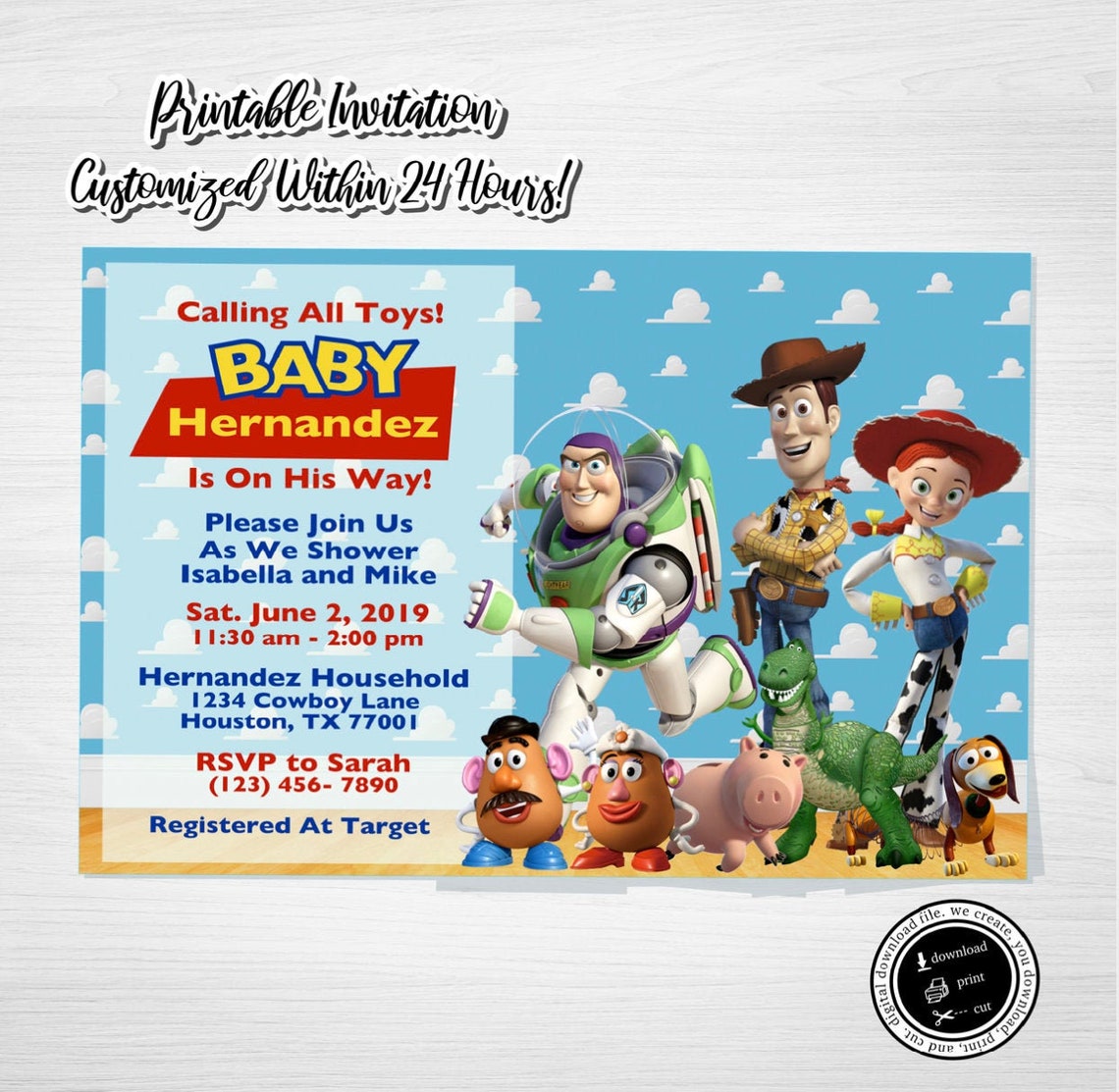 IT'S A BOY STORY BABY SHOWER IDEAS: DECORATIONS
Decorations definitely set the tone for an event. Whether or not it's chill and laid back or something spectacular that they won't forget, decor plays a huge part!
Grab this balloon garland kit and drape around a backdrop or cascading down the stairs.
GAMES
Here's a quick list of Boy Story baby shower ideas for classic baby shower games, but don't be afraid to do something new and unique!
DIAPER TOSS
You could grab this bean bag game, but instead replace the bean bags with diapers.
BOY STORY BABY SHOWER PRINTABLE GAMES
This printable collection is available as an instant download and includes many classic games such as "Guess How Many Army Men", "Bingo", "Finish Mommy's Phrase" and more.
Minute to win it baby shower games
Check out this video for "Minute-to-win-it" baby shower game ideas.
BOY STORY FOOD & SWEETS IDEAS
Can you really have a Toy Story inspired baby shower without pizza from Pizza Planet? If not pizza, definitely small cookies decorated like pizzas in a pizza planet box. Plus, another idea is a ham or cheese platter, or a charcuterie board if you're fancy, with the pig in the center.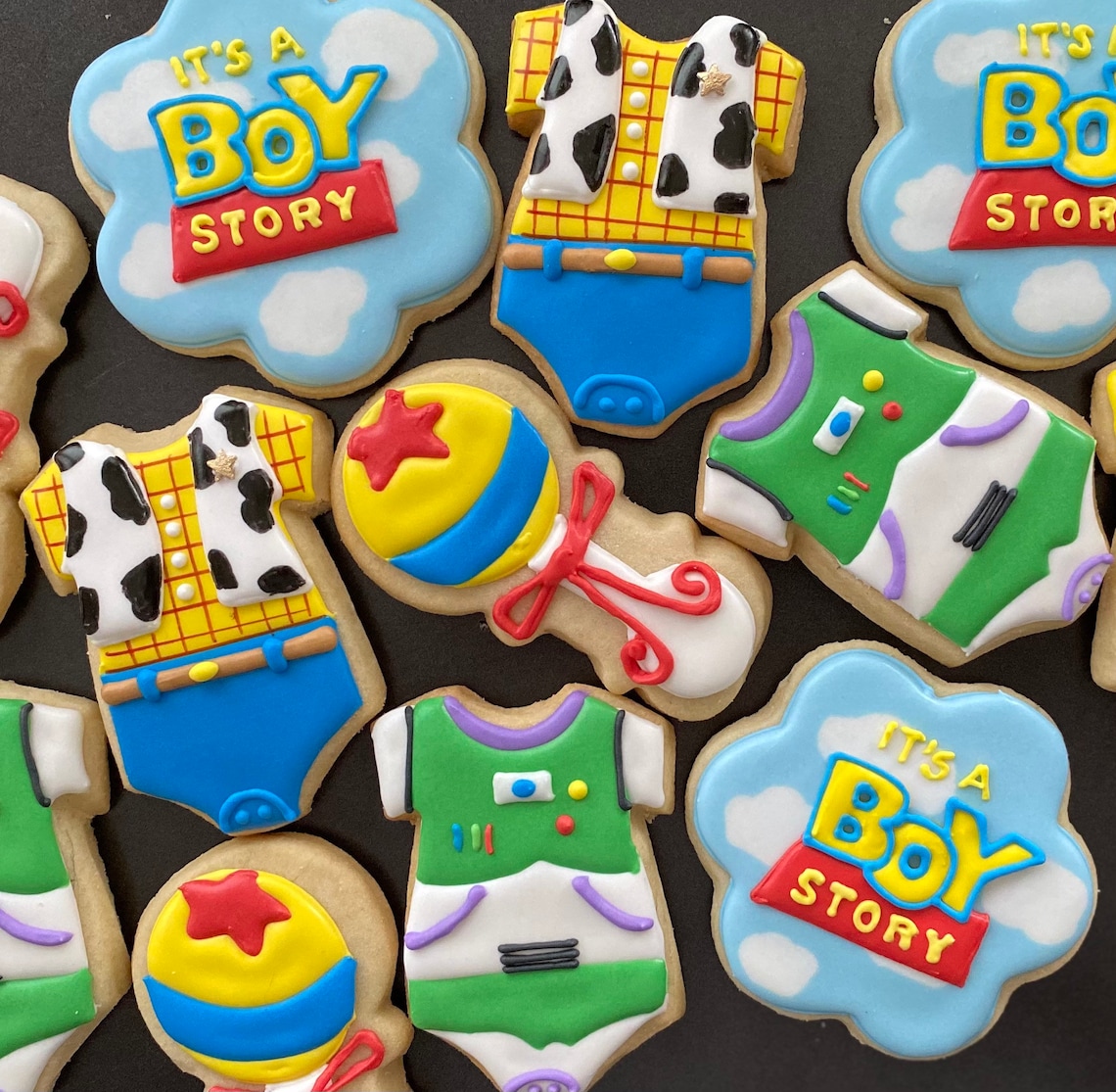 BOY STORY BABY SHOWER CAKE
Finding the perfect design for a Boy Story baby shower cake doesn't have to be hard. You can opt for a simplistic sheet cake, bake a cake at home and add a cake topper, or splurge on a tiered cake. Whatever you choose, there are great ideas to fit any budget.
Boy Story Sheet Cake
A traditional sheet cake definitely can meet expectations. Have it personalized with an edible icing image and your guests will enjoy the classic taste of awesome baby shower cake.
Boy Story Tired Cake
For a large baby shower, you may want to consider going for a tiered cake. This would allow for more than enough servings and plus you can personalize each tier to have different flavors.
BOY STORY PARTY FAVORS
If using you'll be doing DIY party printable favors like chip bags, we recommend Pretty Party & Crafty Party Printables Paper. You can check out this post if you have questions on how to assemble. When it comes to baby showers, I must admit, I love mini champagne bottles for guests to "pop" when the mother to be does!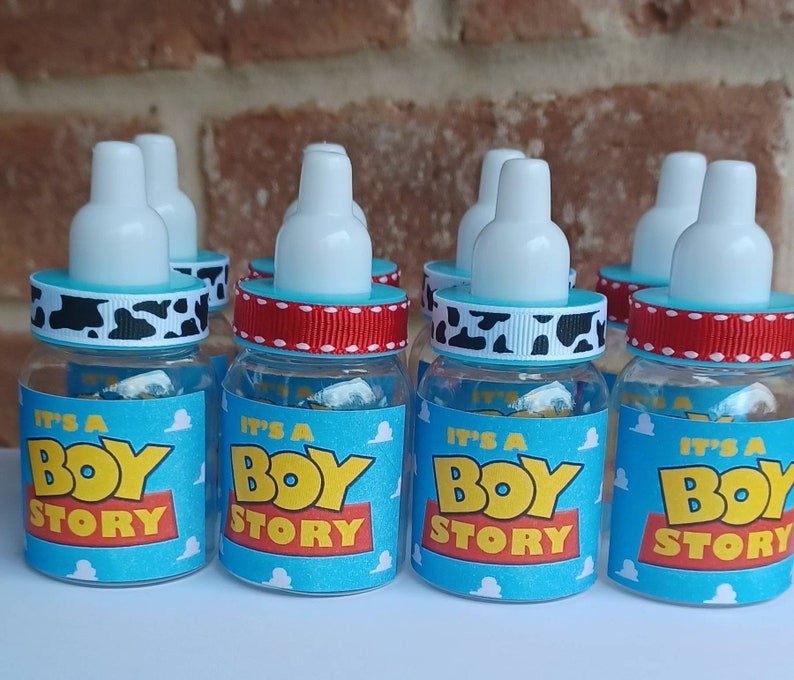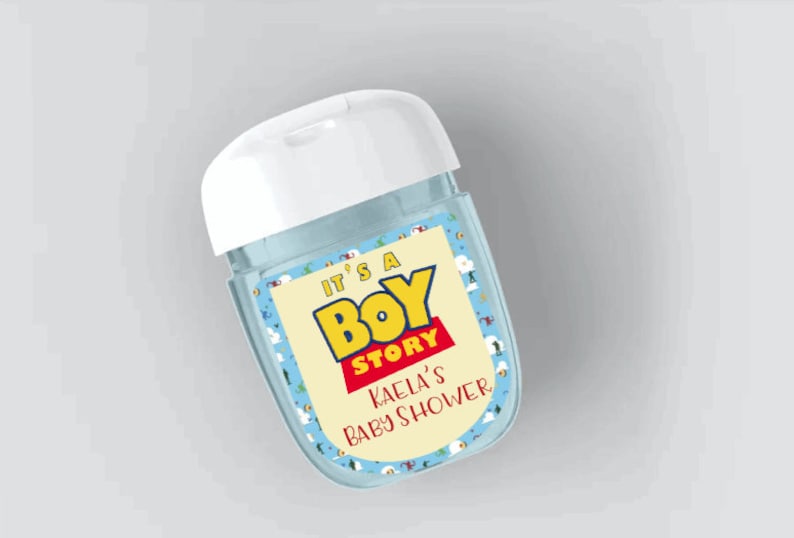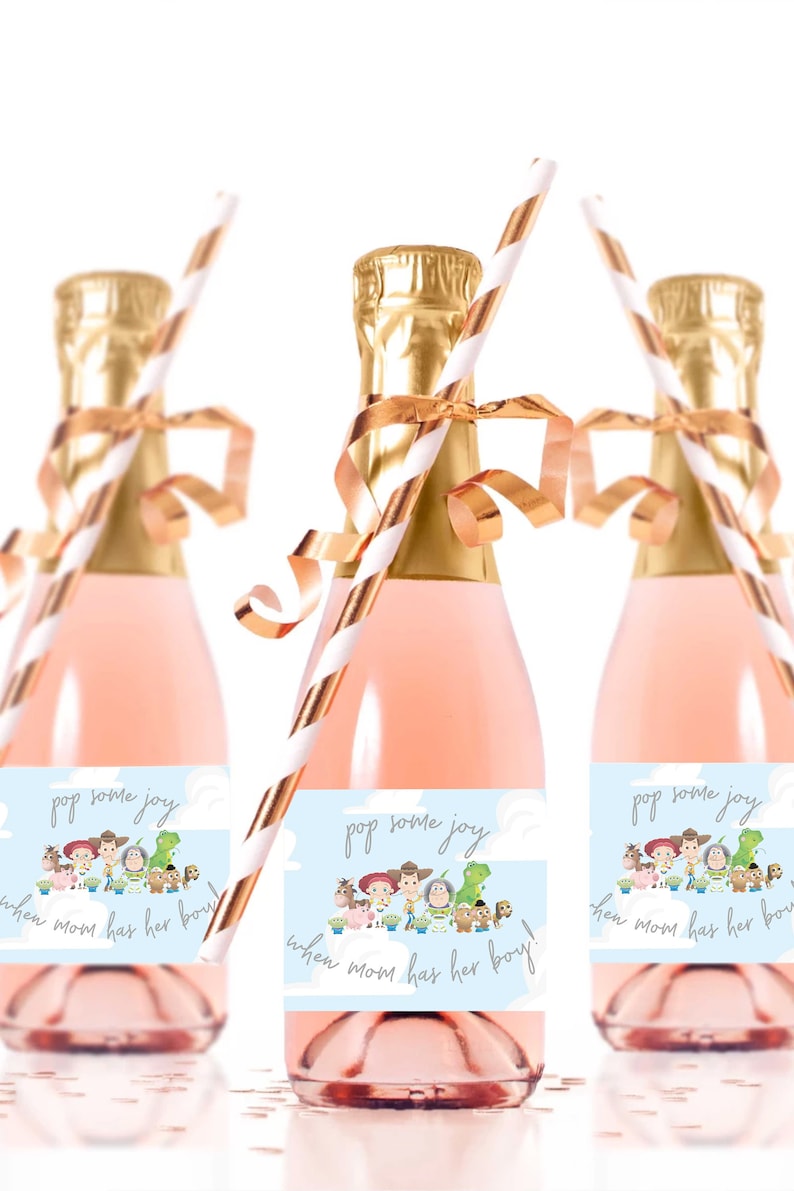 QUICK NOTE:
Love pretty, parties, crafts and free? All that I ask is that you don't be a stranger and CLICK HERE to follow me on INSTAGRAM or join the facebook group. If you think your friends might like it, share the link to the post and pin the image below. Do that, and you can expect tons more!
LIKE WHAT YOU SEE?
PIN IT USING THE IMAGE BELOW: