Looking for a cool birthday theme for a gamer? Check out this list of Video Game Party ideas, perfect for a birthday.
*This post may contain affiliate links, which means if you choose to make a purchase, I may earn a small commission to pay for coffee at no extra cost to you. I greatly appreciate your support! SEE FULL DISCLOSURE HERE
Video games are a passion for many people, from Super Mario, Fort Nite, Roblox and so much more. And one of the things about planning an amazing party is to ensure it features the favorite things of the birthday boy or girl. So if you have someone who loves gaming, a video game themed birthday is a great way. My sons favorite game console is the Nintendo Switch, so I even created a complete collection of video gaming party printables to match. Below you'll find all the video gamer party ideas you'll need for your celebration.
VIDEO GAME PARTY INVITATIONS
The tone for birthday parties are set with a great invite, so get ready to pick a great video game birthday party invitation! You can send the invitation digitally via text or shared on social media. Or you can pass out or mail cool printed invitations. Whether you're looking for write-in invitations, game truck invitations, digital video invites, or done for you printed and shipped, check out these video game party ideas for invitations below.
This Nintendo Switch video game birthday invitation is a great option for a quick and inexpensive invite.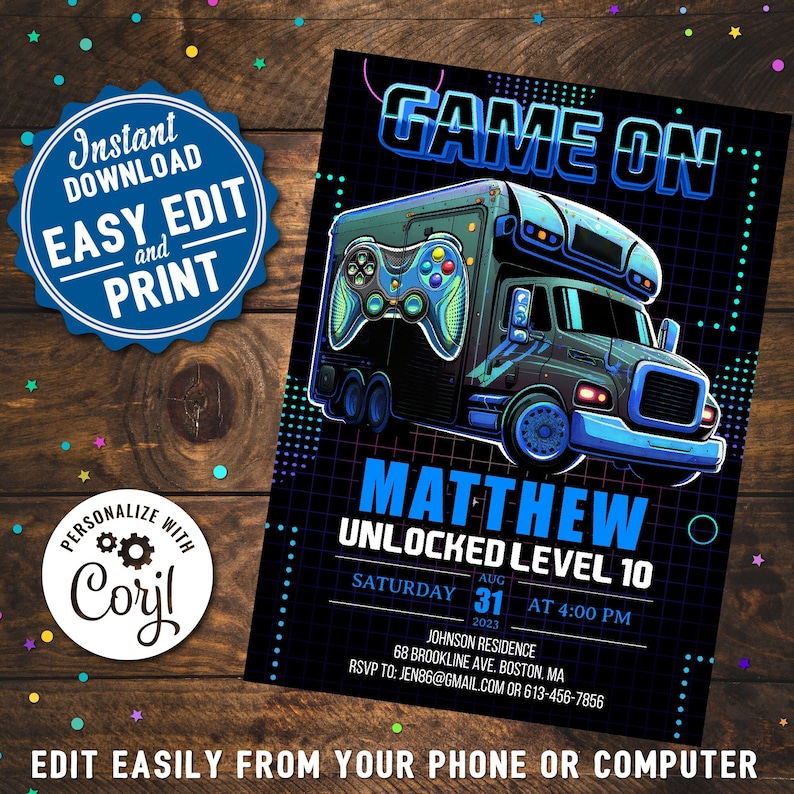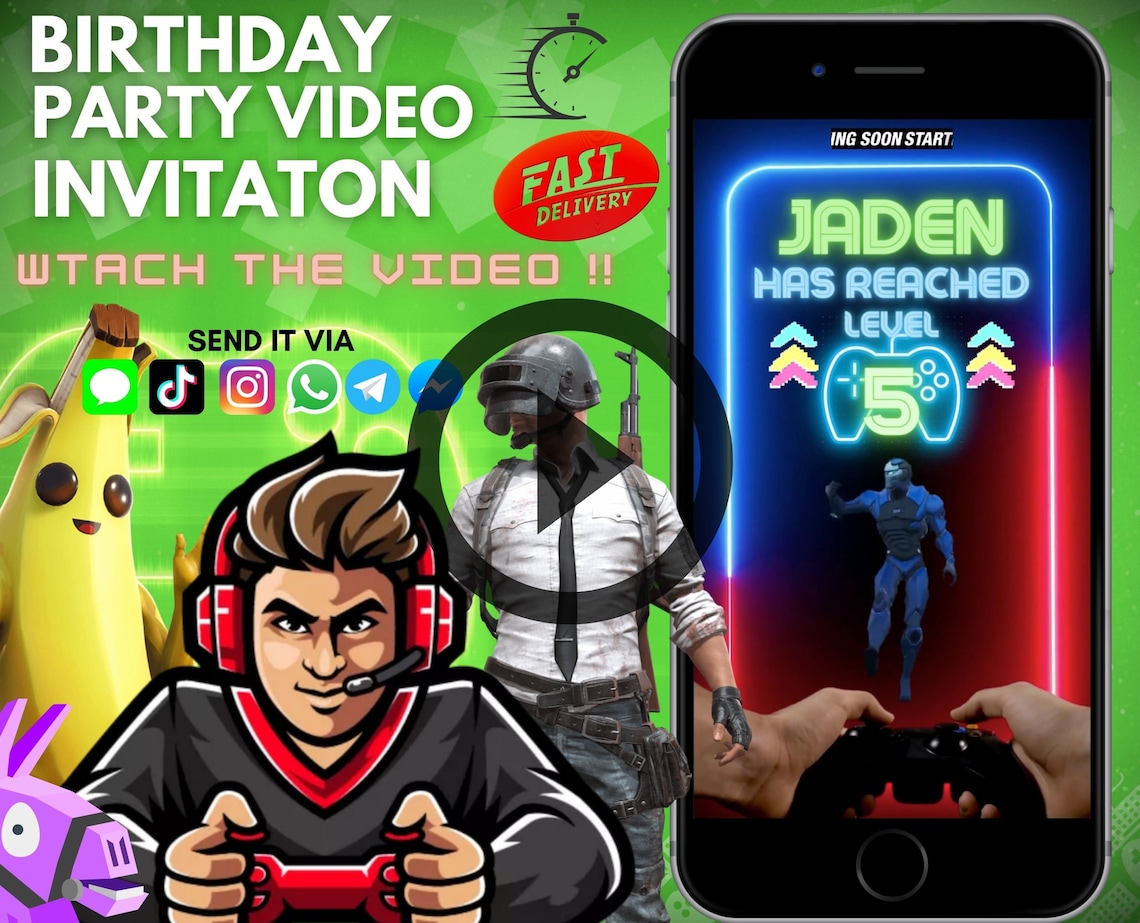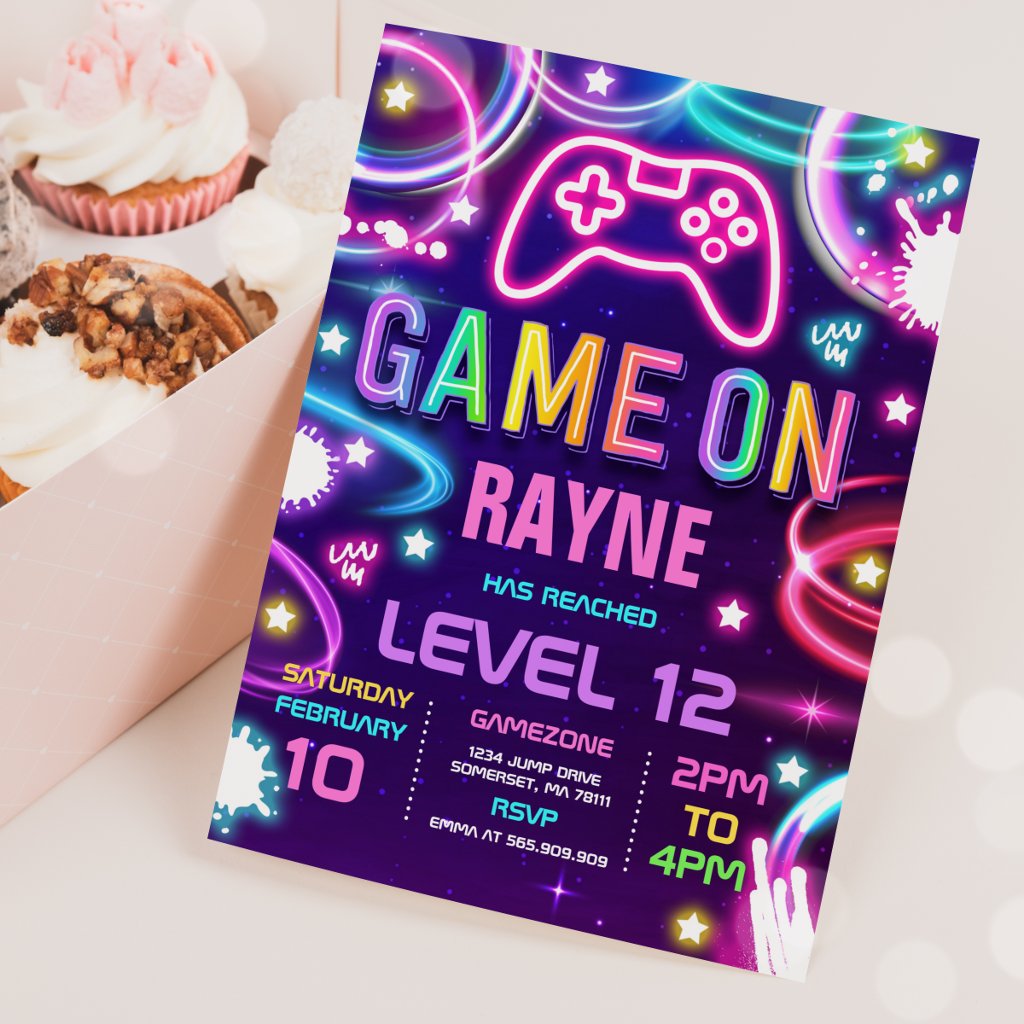 VIDEO GAME PARTY DECORATION IDEAS
When shopping for party supplies, decorations should be at the top of the list. Decorations definitely can take any event to the next level. Whether or not it's chill and laid back or something spectacular that they won't forget, decor plays a huge part! Even if you plan on hosting the event at a party place or entertainment gaming place, you can still decorate the party table or room with a gaming theme.
This Game On themed birthday party set is a fun way to decorate the dessert table. It features, balloons, banners and table cover.
GAMES
For a video game party, playing video games seems like a given. You could rent a mobile video game theater or game truck that features different games and multiple gaming consoles for multi-players. But, be sure to have extra activities in between gaming to keep your party guests entertained. You can rent or purchase laser tag equipment, obstacle courses, or other age appropriate games for the special day. Extra games will ensure for a fun-filled bash.
GAME TOSS
PIN THE BUTTON ON THE CONTROLLER
VIDEO GAME CONTROLLER PINATA
GAMER PARTY FOOD IDEAS
With a party full of gaming, you have to keep their energy up with some awesome and tasty gamer party food ideas. While pizza and hotdogs are pretty standard, up the wow factor with video game snacks and treats.
Grab some edible ink markers and tortilla chips and decorate burgers to look like Pikachu.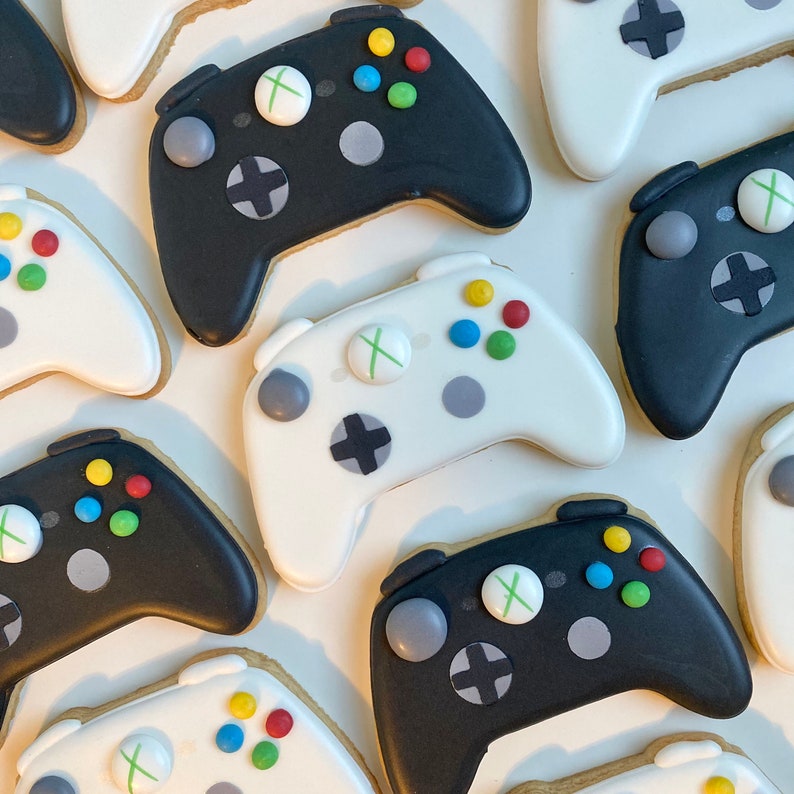 VIDEO GAME BIRTHDAY CAKE
There are many different options for birthday cakes. You can opt for a simplistic sheet cake, bake a cake at home and add a cake topper, or splurge on a tiered cake. Whatever you choose, there are great ideas to fit any budget.
Video Game Sheet Cake
A traditional sheet cake can definitely exceed expectations. You can purchase one from your local grocery and have it personalized. you can go beyond the "Happy Birthday" personalization and add a custom edible icing image. The bakery department usually will add an edible image that you have to the cake free of charge or for a small fee. Or you can add it to the cake yourself at home.
VIDEO GAME PARTY FAVOR IDEAS
After having a great time and cutting the cake, at the end of your party, goodie bags are usually expected. If you plan on doing DIY party printable favors like chip bags, we recommend Pretty Party & Crafty Party Printables Paper. You can check out this post if you have questions on how to assemble. Below are some ideas for video game party favors that would be a huge hit.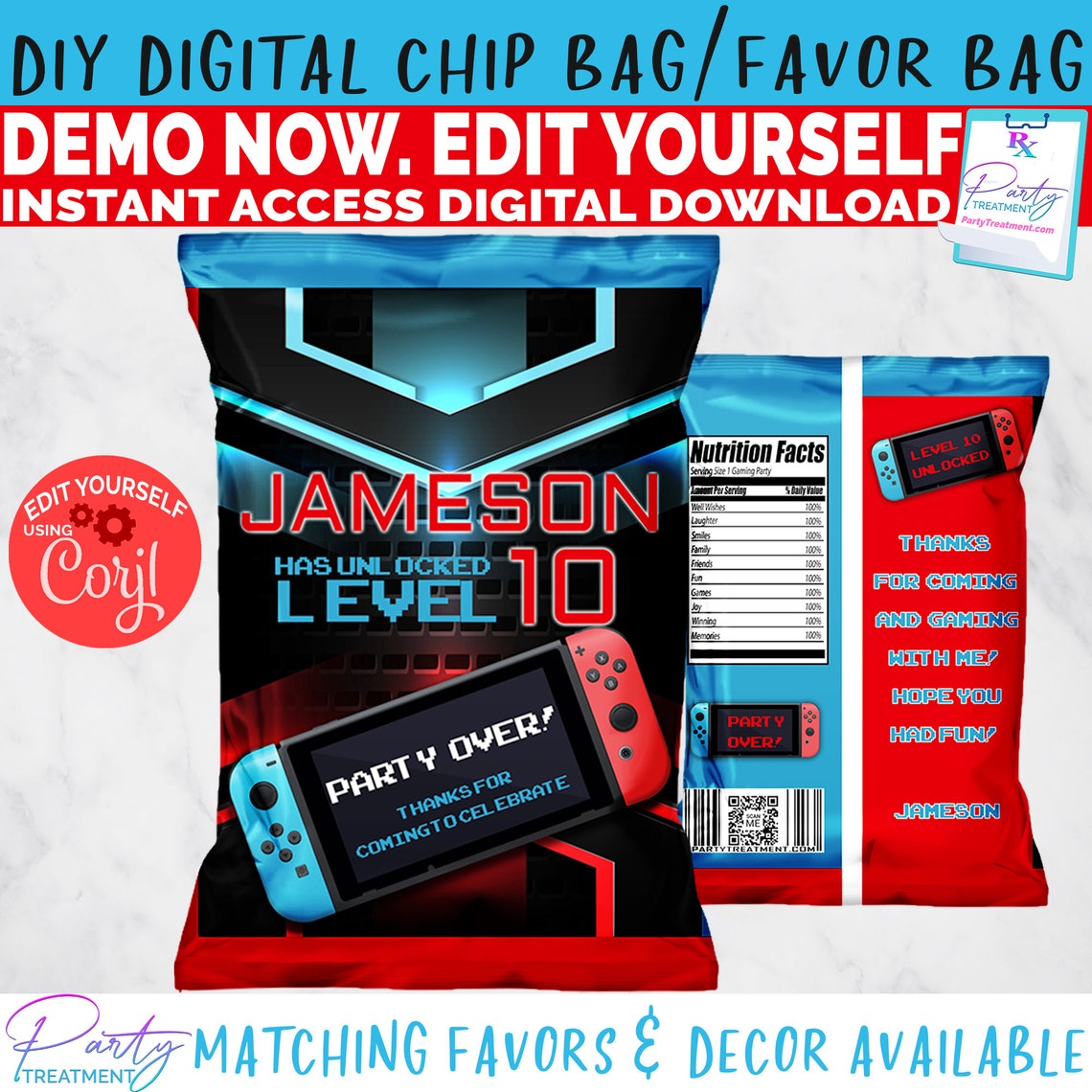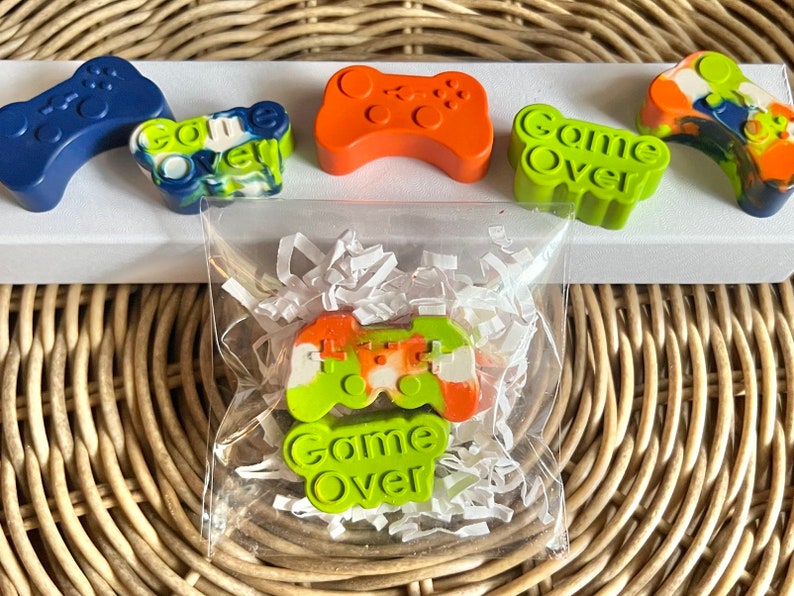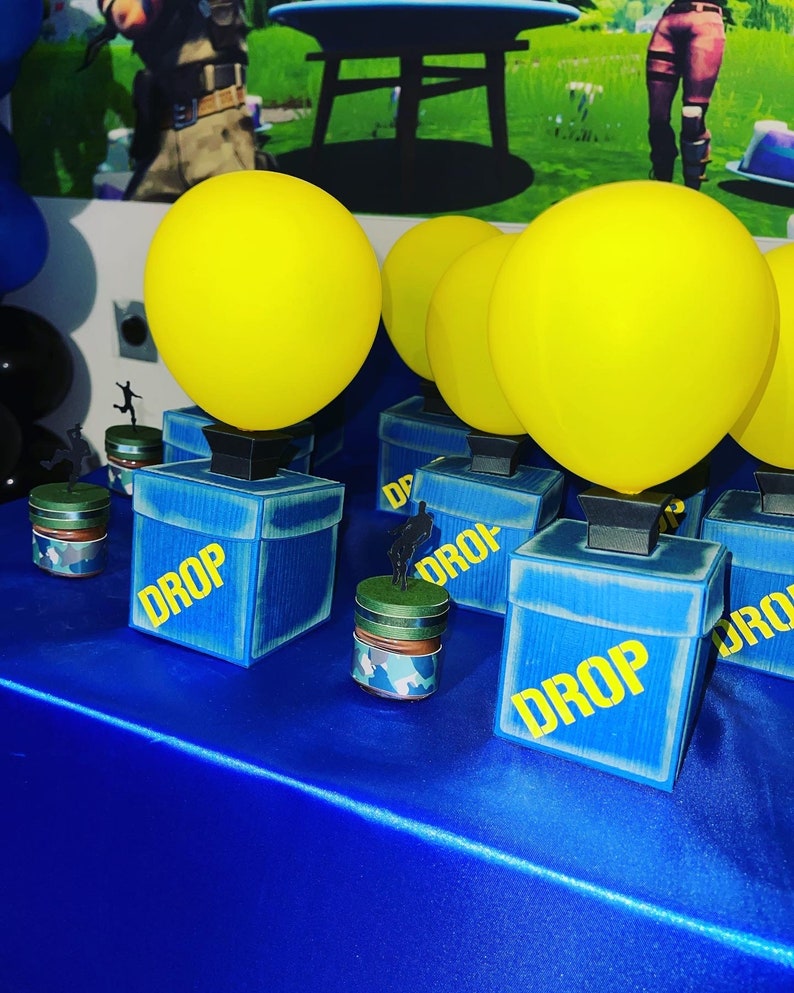 Hopefully these video game birthday party ideas inspires you to plan the best party, yet.
QUICK NOTE:
Love pretty, parties, crafts and free? All that I ask is that you don't be a stranger and CLICK HERE to follow me on INSTAGRAM or subscribe to my YOUTUBE channel. If you think your friends might like it, share the link to the post and pin the image below. Do that, and you can expect tons more freebies, tutorials, party inspiration, recipes and recommendations!
LIKE WHAT YOU SEE? PIN IT USING THE IMAGE BELOW!