Looking for Harry Potter baby shower decorations, invitation, games, banner, backdrops or cake? You've come to the right place! Check out this list of ideas for a Harry Potter baby shower for a girl, boy or gender neutral.
*This post may contain affiliate links, which means if you choose to make a purchase, I may earn a small commission to pay for coffee at no extra cost to you. I greatly appreciate your support! SEE FULL DISCLOSURE HERE
If you're a fan of the Harry Potter series, then it's understandable that you want to spread the love. What better way than a themed baby shower as you welcome your magical bundle or little muggle! Not only have we found classic baby shower ideas, but we've also gathered Harry Potty Baby Shower ideas specifically for girls, because pink is always pretty magical, too. Below you'll find all the ideas you'll need for your baby shower.
Baby Shower Invitation
Invitations are the first impressions, so make it special! It's up to you if you send digitally as a text or shared on social media, but I definitely prefer printed and shipped. Printed invitations make for a timeless keepsake. Zazzle is a great place to get a few printed invitations and designs. But if you'd rather print or text yourself, check out these Harry Potter baby shower invitations for girls, boys or gender neutral.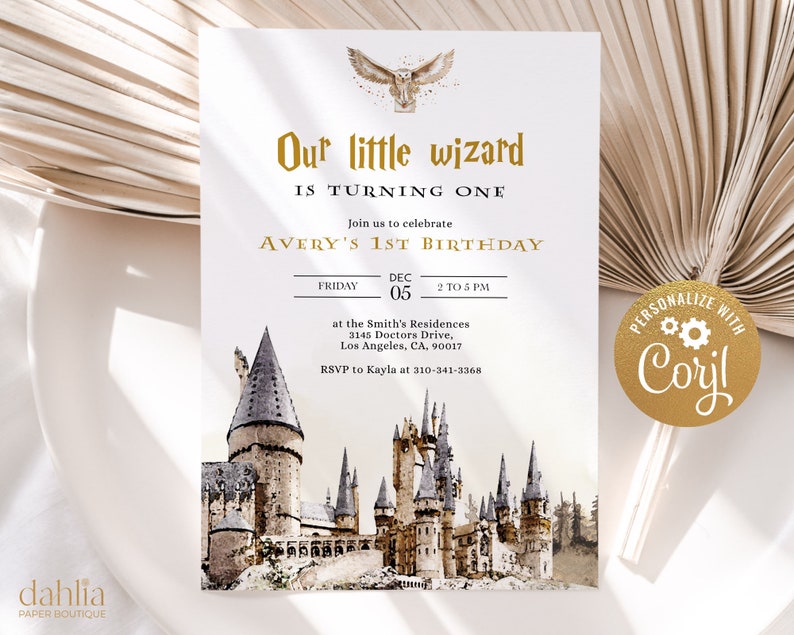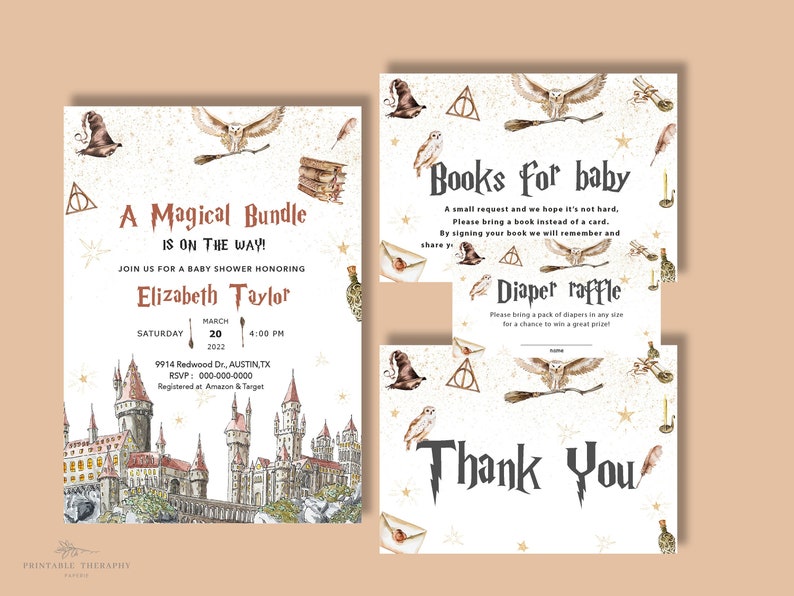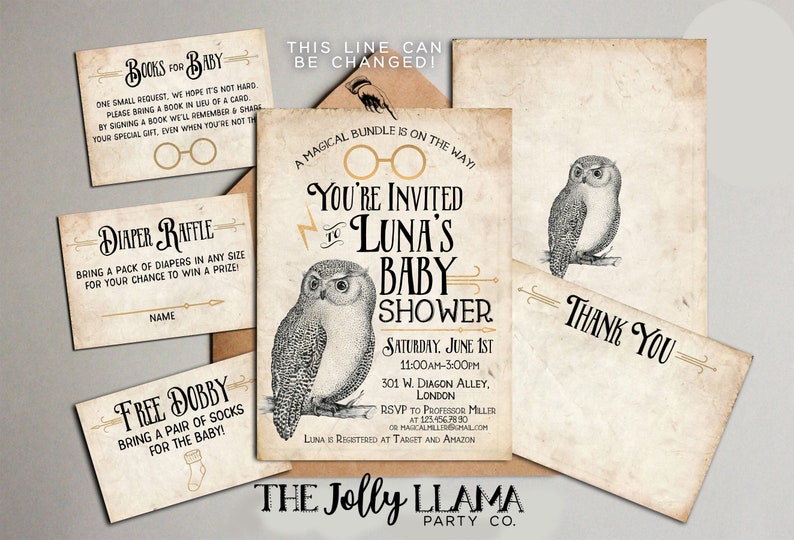 Harry Potter Baby Shower Decorations
Set the tone for your event with the right decorations. Bring the magic and wizarding world into your baby shower with these perfect pieces.
Oriental Trading has a wide range of Harry Potter decorations, costumes, accessories and party supplies that can be used for a shower.
GAMES
GAME SHEETS
You can grab printable baby shower game cards like the ones before. The more "risque" version, with "Howler or Labor" and "Butter Beer or Baby Belly" is especially fun if your baby shower is co-ed.
Don't forget to grab these Witches' Broom Pens, that you can even personalize, so guests can fill out their game cards.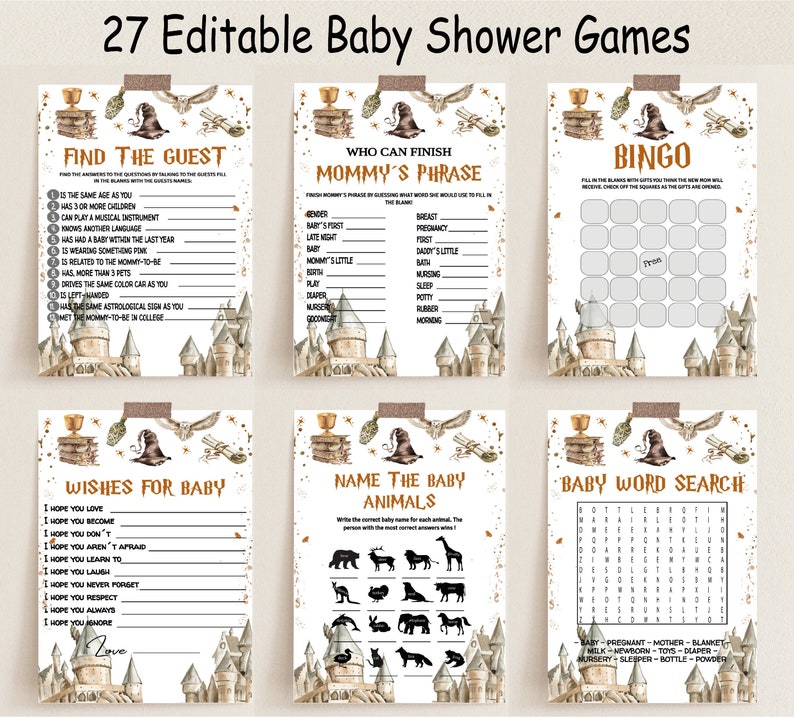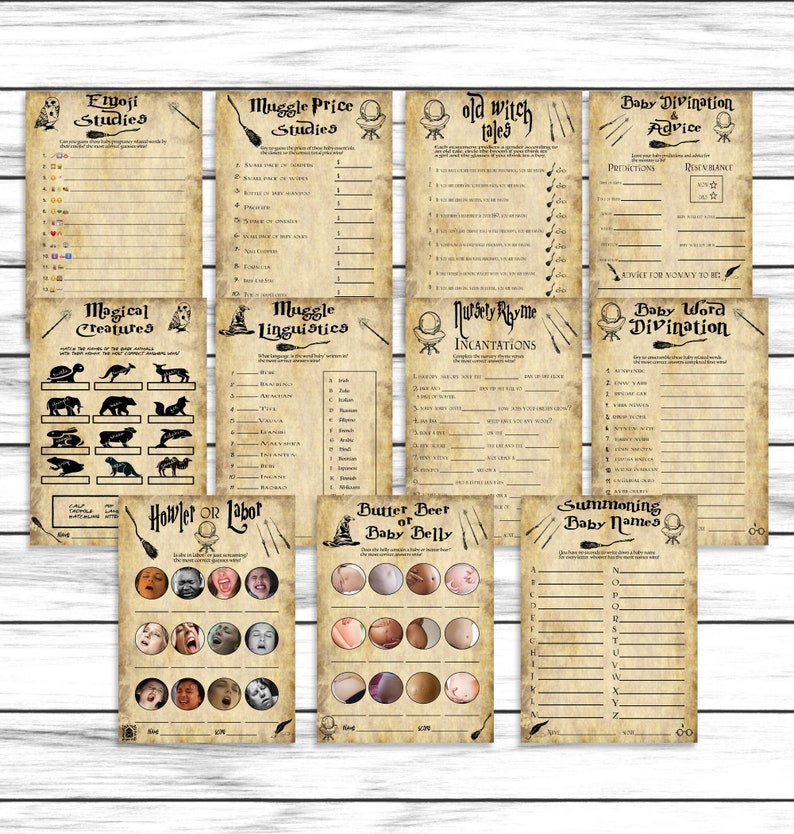 Minute to win it baby shower games
Check out this video for "Minute-to-win-it" baby shower game ideas.
HARRY POTTER BABY SHOWER CAKE
Finding the perfect design for a baby shower cake doesn't have to be hard. You can opt for a simplistic sheet cake, bake a cake at home or splurge on a tiered cake. Whatever you decide, there are great options to fit any budget.
Harry Potter Baby Shower Sheet Cake
While many people have begun leaning towards tiered cakes, a Harry Potter Baby Shower sheet cake can exceed expectations. A book shaped sheet cake, with Harry Potter themed accessories and fonts is absolutely stunning. Even, if you don't go for the book style, you could purchase a Harry Potter themed edible image and adhere to a standard sheet cake from your local grocery.
Baby Shower Tiered Cake
Tiered cakes are great for a more dramatic display. If you're having an especially large crowd, the extra servings will feed everyone. Plus with different tiers you can customize each tier to have different flavors and fillings
Harry Potter Baby Shower Favors
If you'll be doing DIY party printable favors like chip bags, we recommend Pretty Party & Crafty Party Printables Paper. You can check out this post if you have questions on how to assemble.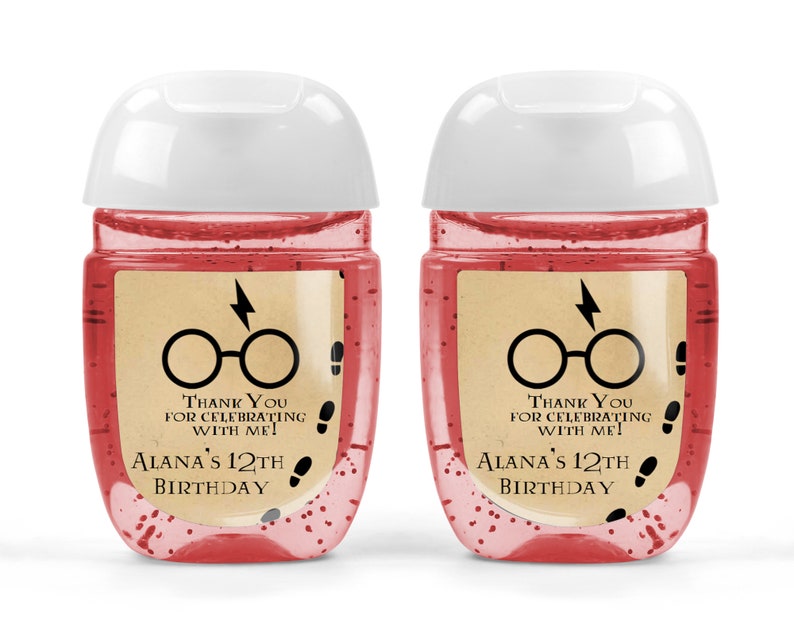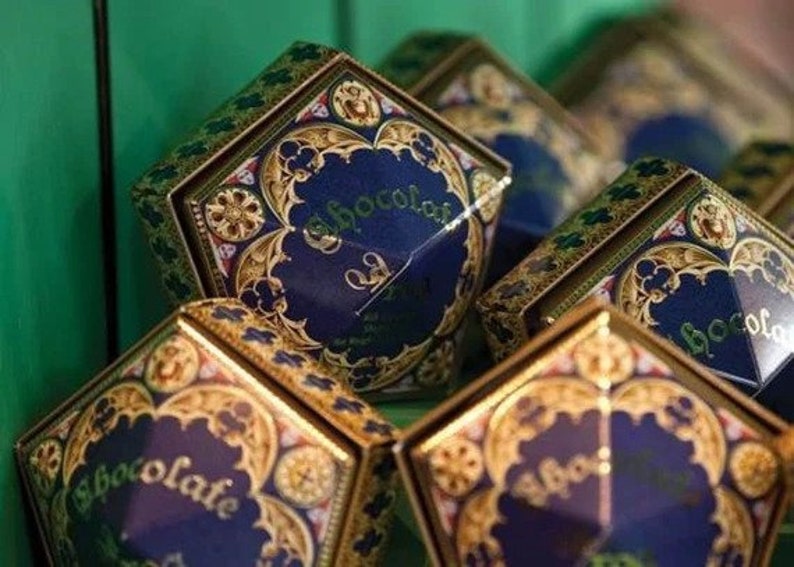 If you're feeling crafty, this Chocolate Frog Box and Trading Cards digital download would make an interesting party favor. You could print on glossy cardstock and include a chocolate frog inside using green colored chocolate and a frog mold.
QUICK NOTE:
Love pretty, parties, crafts and free? All that I ask is that you don't be a stranger and CLICK HERE to follow me on INSTAGRAM or join the facebook group. If you think your friends might like it, share the link to the post and pin the image below. Do that, and you can expect tons more!
LIKE WHAT YOU SEE? PIN IT USING THE IMAGE BELOW!