A Little Cutie is On The Way Baby Shower Theme Ideas
Planning an orange fruit themed baby shower? Check out this list of Little Cutie Baby Shower ideas, perfect for a gender neutral citrusy theme like a little cutie baby shower theme.
There's nothing more exciting than anticipating the arrival of a little bundle of joy. And what better way to celebrate this precious moment than by throwing a Little Cutie Baby Shower? From adorable invitations and decorations to delicious treats and party favors, we've compiled a list of little cutie themed baby shower ideas to make planning easy.
Little Cutie Baby Shower Invitations
When planning any celebration, after nailing down the theme, the first thing to do is to find matching invites. Choose invitations that reflect the Little Cutie theme. Go for bright and cheerful colors like orange, yellow, and green. With invitations, you have the choice between digital designs that you send via text or email, DIY printables that you personalize and print yourself, fillable invitations that you write the details in, or printed invitations that are ready to ship.
Because baby showers are such a special event, especially the first, I recommended printed invitations or DIY printable invites that you print yourself. However, if it's last minute, small, or in an office setting, there's nothing wrong with fill-in invitations, or digital invitations.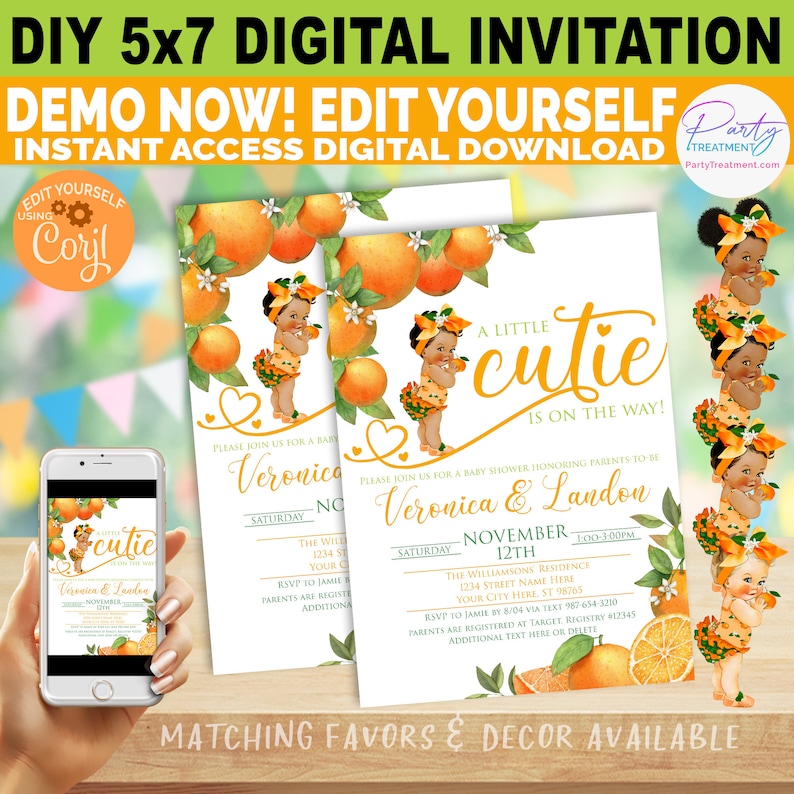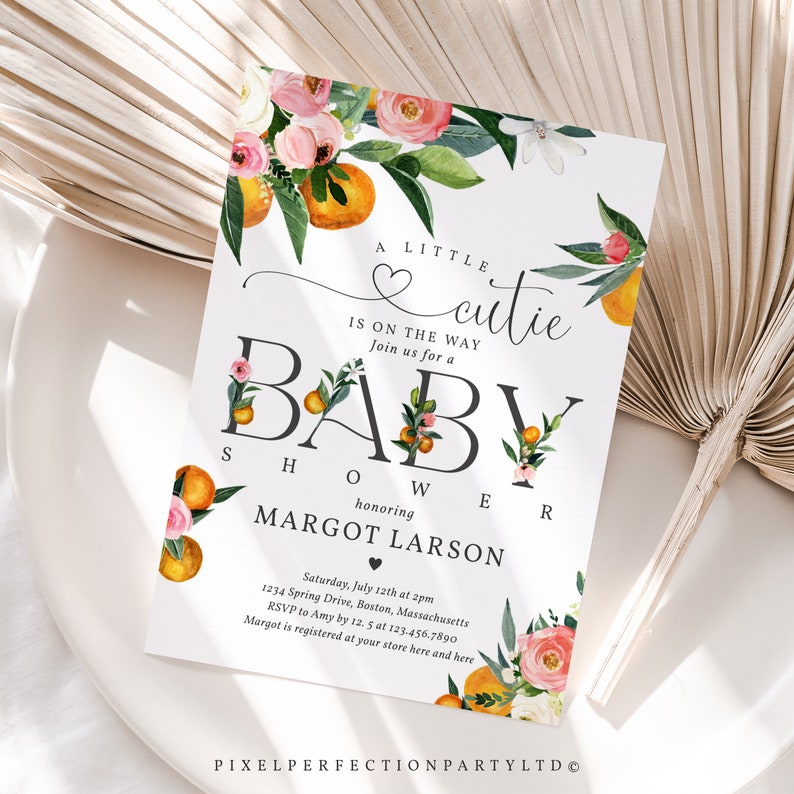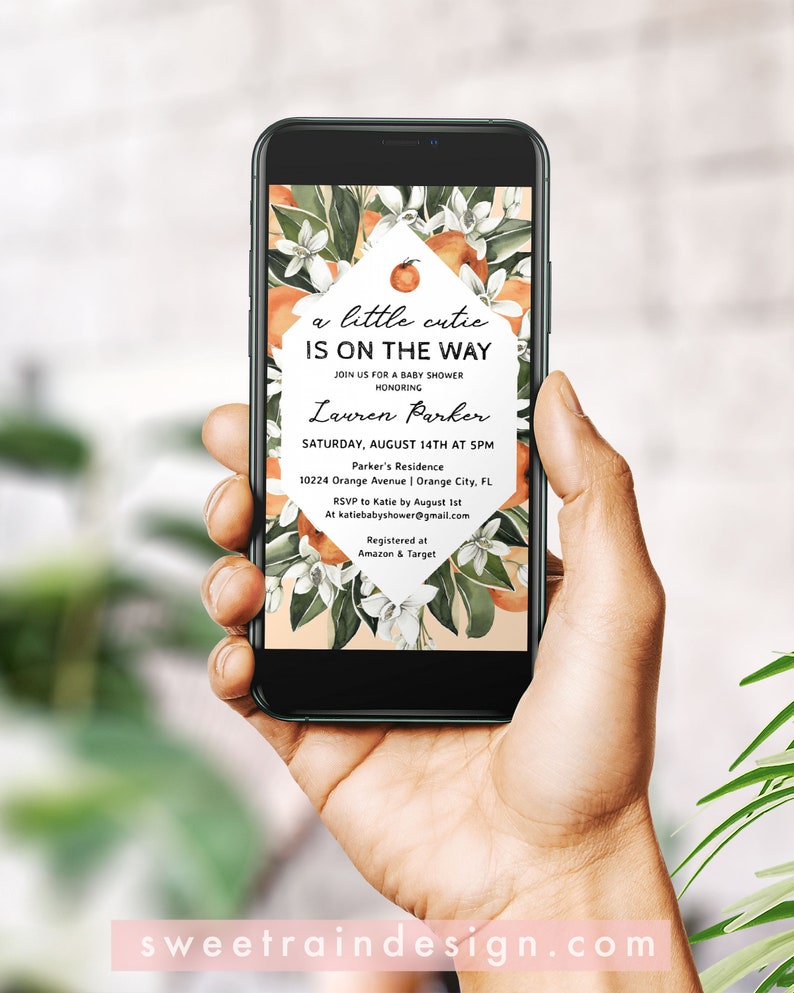 Little Cutie Baby Shower Decoration Ideas
When shopping for baby shower supplies, decorations should be towards the top of the list. Decorations definitely can take any event to the next level and make a lasting impression. Hang strings of faux citrus fruits across the room, or create centerpieces using a tall cylinder or mason jars filled with oranges and floral pieces.
When decorating, think about the little details and ways that you can incorporate natural elements. You can use various citrus fruit in the display and place setting. Consider custom napkins, a beautiful orange floral arrangement, table garland, fresh clementines with accent's of baby's breath and leaves. Below are more party decorations to get ideas flowing.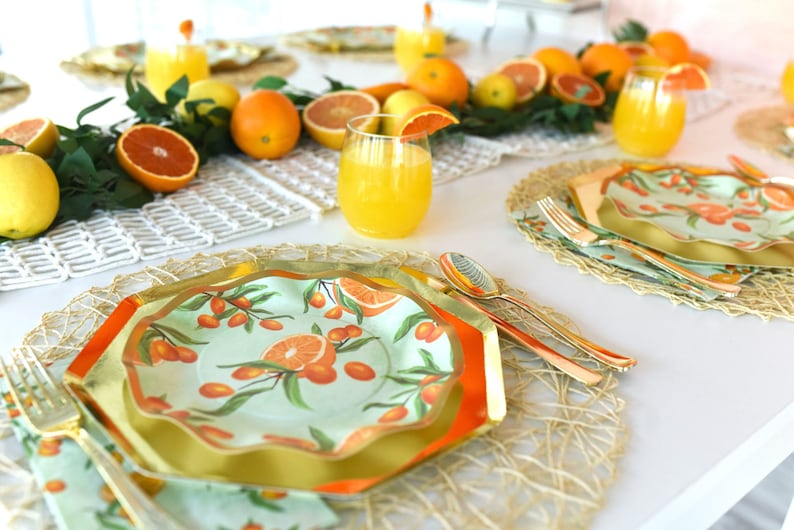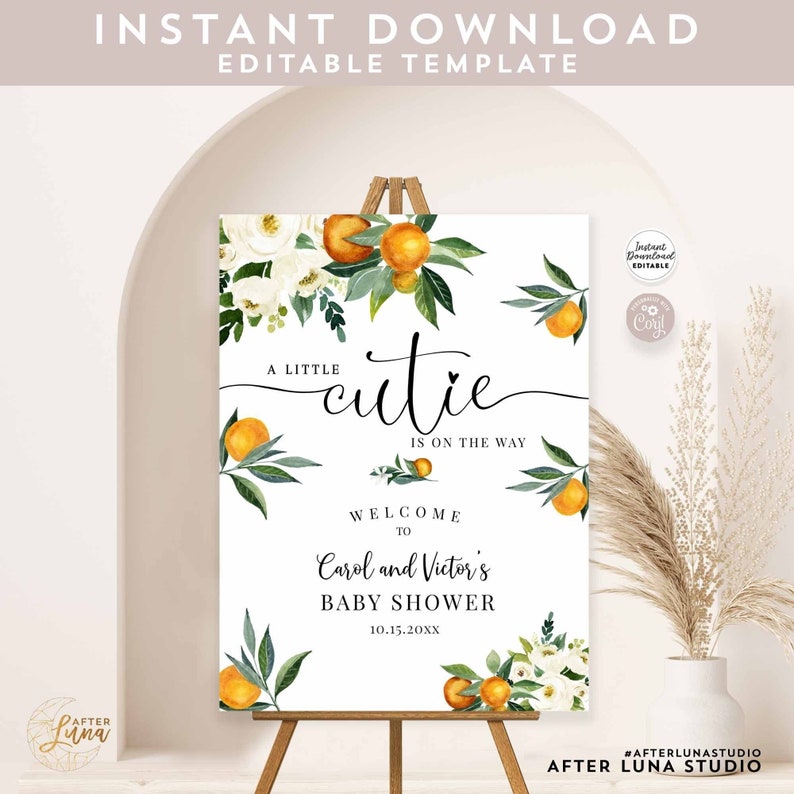 Little Cutie Baby Shower Games
Add an element of fun and laughter to your Little Cutie Baby Shower with games and activities. Consider organizing a blindfolded fruit tasting contest, where participants guess the fruit based on their taste alone. You can also host a "Guess the Baby Food" game, challenging your friends to identify various fruit purees. Don't forget to reward the winners with adorable fruit-themed prizes or little succulent plants as a token of appreciation.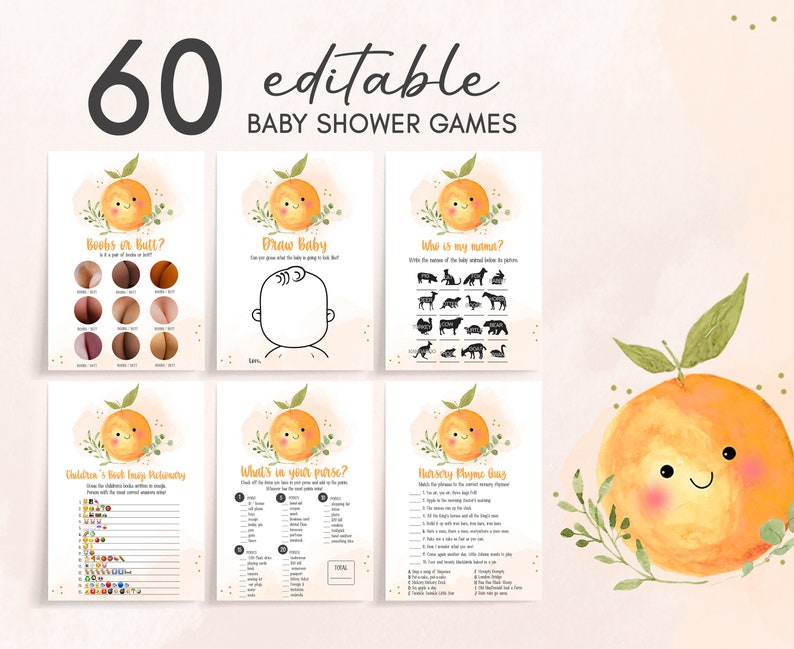 Little Cutie Baby Shower Food Ideas
For a Little cutie baby shower menu, embrace the fruity theme by offering an assortment of citrus and fruit inspired offerings. Set up a fruit bar with an assortment of juicy, sliced fruits for guests to enjoy. Create fruit-inspired cocktails or mocktails. Serve refreshing orange-infused water to keep everyone hydrated. You could also put an orange spin on baby shower staples, such as orange meatballs, citrus cocktail shrimp, orange chicken wings and more.
Little Cutie Baby Shower Cakes
For a sweet finale, treat your guests to a beautifully decorated cutie-themed cake. There are many different options for baby shower cakes. You can opt for a simple sheet cake, bake a cake at home and add a cute cake topper, or splurge on a tiered cake. Whatever you choose, there are great ideas to fit any budget.
If you opt for a simpler cake, you can always spruce it up with a cute cake topper! Check out these cutie themed cake toppers from a few handmade artists.
Little Cutie Baby Shower Favors
After having a great celebration, at the end of your shower, favors are usually expected (separate from the prizes that game winners receive). If you plan on doing DIY printable favors like chip bags, we recommend Pretty Party & Crafty Party Printables Paper. You can check out this post if you have questions on how to assemble. Below are some ideas for little cutie baby shower favors that would be a huge hit.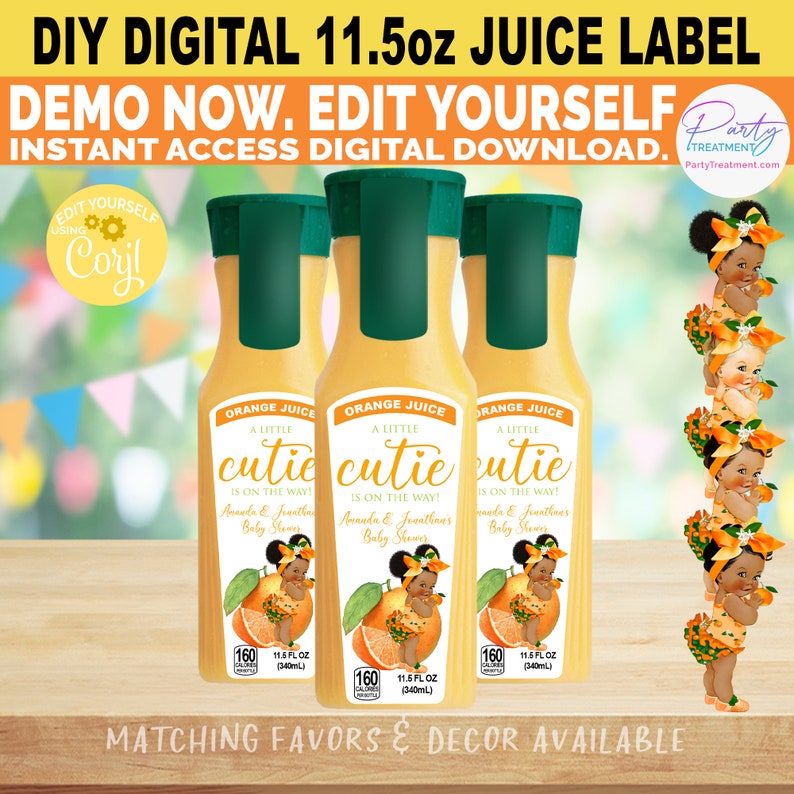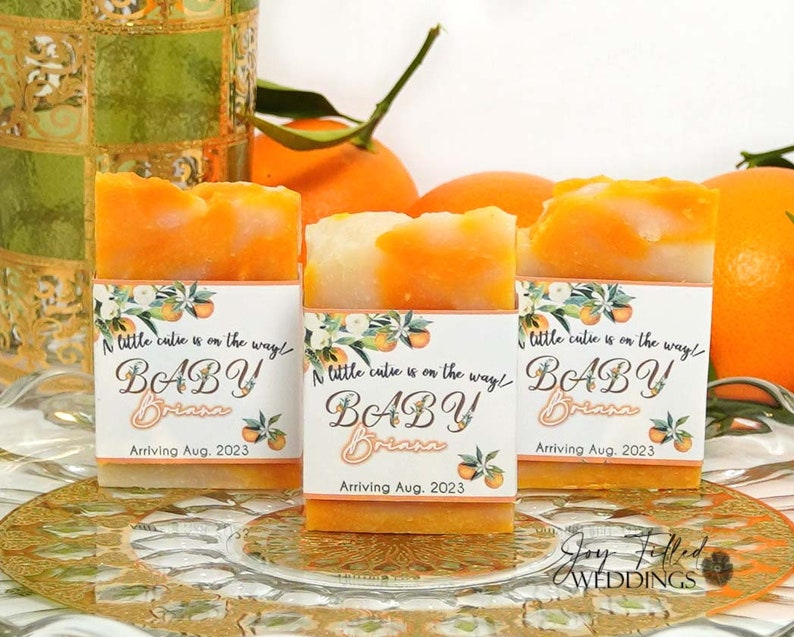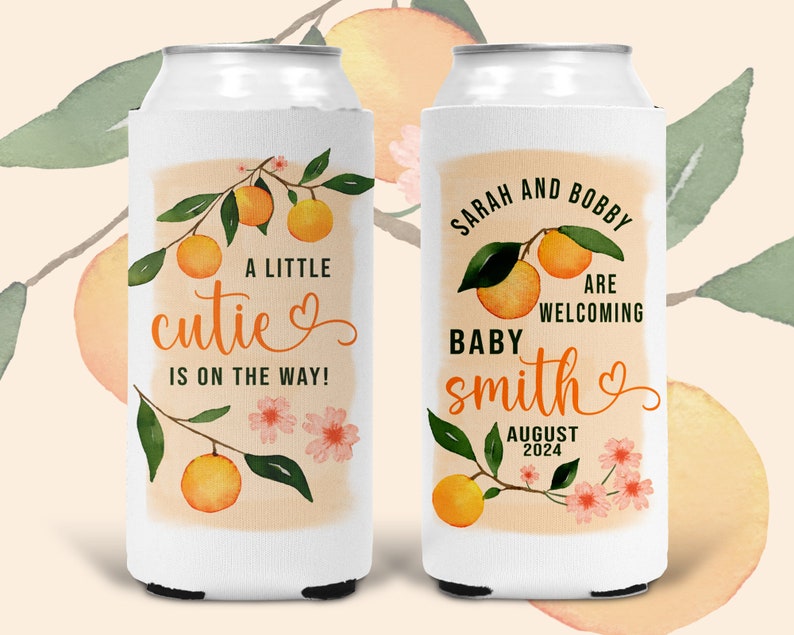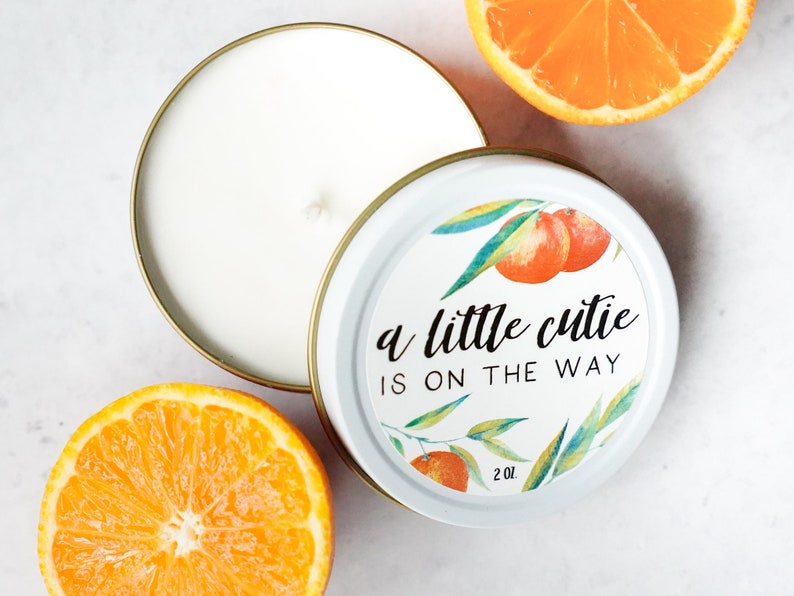 From the moment your guests receive their cute invitations, this gender neutral baby shower theme will be a hit. Prepare to embrace the cuteness overload! Remember, a Little Cutie Baby Shower is all about celebrating the new chapter in the life of an expectant parent. Happy planning and congratulations on the little cutie that's on the way!
Hopefully these little cutie party ideas inspire you to plan the best baby shower, yet.