You've Been Booed Free Printable for Halloween
Want to celebrate this Halloween season with a new fun tradition? Luckily, you've come to the right place! Since you're here, check out our You've Been Booed Printable to get you in the booing spirit.
*This post may contain affiliate links, which means if you choose to make a purchase, I may earn a small commission to pay for coffee at no extra cost to you. I greatly appreciate your support! SEE FULL DISCLOSURE HERE
Obviously, I love the month of October. Besides it being my birthday month, pumpkin spice is readily available and the treats are sweet! And with this fun Halloween tradition, hopefully you'll love this month and holiday as much as I do and spread some Halloween cheer! If this is your first time hearing about you've been booed, trust me, it will be so much fun to do.
What is You've Been Booed?
You've Been Booed is a fun way to spread some fun Halloween spirit with a friend group, family member, the whole neighborhood or even coworkers. Imagine finding a spooktacular goodie bag, or boo bag, at your front door. Or a boo bucket filled with halloween treats at your desk with a poem or note. Once you receive it, you notice that it includes a little sign saying you've been booed and prompting you to post your we've been booed sign to let everyone else know. The best part is that you're encouraged to keep the fun going, by printing your own halloween boo signs and booing someone else.
Ready to get in on the Halloween fun and make your own boo basket and boo someone? Generally, most people are! You can get the entire neighborhood or your friend groups in on the action. Before you get started, let's check out the You've Been Booed simple instructions below.
You've Been Booed Rules & Instructions
1. CHOOSE YOUR BOO
First, choose a neighbor, coworker or friend to be the recipient of your boo bag or box. Make sure who ever you choose hasn't already been "booed".
2. PRINT
Secondly, print our black and white You've Been Booed printable PDF free that we've provided. The download link is at the end of this post.
3. SHOP AND ASSEMBLE
Then, it's time to shop and assemble. With a little bit of planning, this boo If you're crafty, feel free to make small boo bags or a small halloween chip bag or gift some homemade treats as well. Create a gift basket, bag or box and fill it with sweet treats, trinkets or small gifts. You can even go the extra step and personalize the items with free printables such as gift tags, custom wrappers or labels. Or keep it simply with dollar store finds. Most importantly, be sure to include the printable You've Been Booed card to explain the tradition and We've Been Booed sign for them to hang so others can know.
4. BOO YOUR FRIENDS
Finally, it's time to boo your friends. Leave their boo box, basket or bag at their door (or work desk). But remember, be discrete!
You've Been Booed Gift Ideas
Your boo gifts can be as simple or as elaborate as you'd like. I would definitely check out the Target Dollar Spot or Dollar Tree. Consider using a cute basket, plastic cauldron, Halloween bucket, small box or gift bag to hold your boo treats.
You can include so many different things such as a couple of small treats, halloween candy, a couple of small toys, festive socks, mugs, or if booing an adult or best friend you can even consider adding wine or liquor, for a you've been boozed spin. Or maybe just one thing, like little candy boxes. It's completely up to you.
When to Start You've been Booed?
Traditionally, people begin to celebrate You've Been Booed October 1st through October 29th. So don't procrastinate!
You've Been Booed Black and White Printable PDF
This design is available to download as an 8.5×11 PDF file. This you've been booed printable is black and white, so you don't have to worry about wasting too much ink. It is formatted as a single two-page PDF document including the following:
You've Been Booed PDF printable
We've Been Booed PDF printable
YOU'VE BEEN BOOED PRINTABLE PDF
Other Booed, Boos, & Boozed Printables, SVGs, and Ideas
If you're looking for more boo, booed, boos, or boozed Halloween ideas, check out some of the free designs my crafty friends came up with and other designs from small businesses!
More Boos Please SVG
Designed by Jamela Payne of Color Me Crafty.
Her More Boos Please SVG would be a great design to have on a shirt, or make as a bar sign just in time for Halloween.
You've Been Boozed SVG
This You've Been Boozed SVG was designed by Shondell from The Craftprint.
You could make signs, koozies, shot glasses and so many more things with this. Endless possibilities.
You've Been Booed Door Hanger Printable Set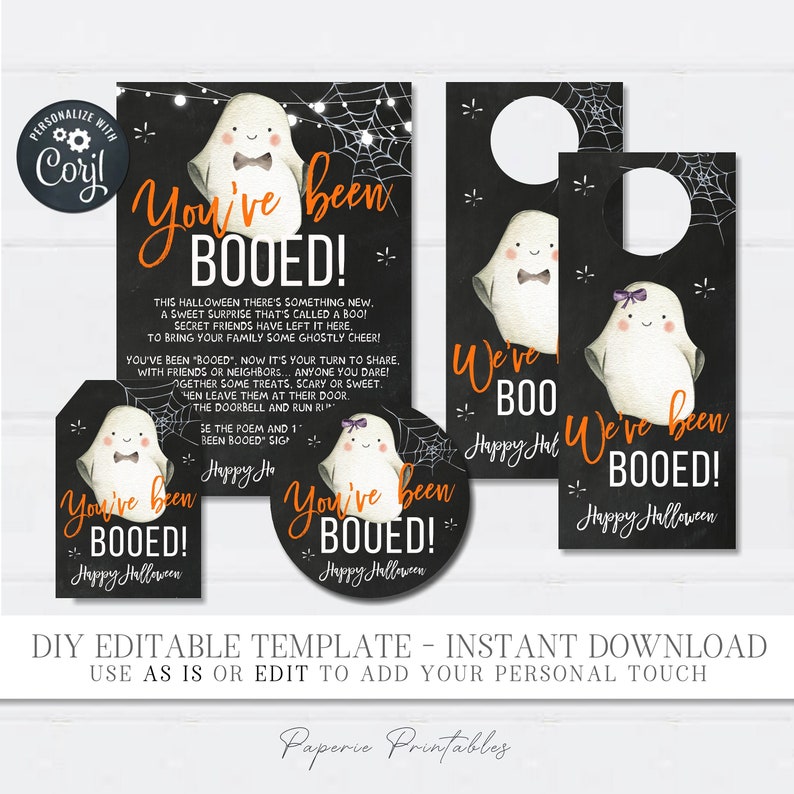 This editable You've been Booed printable set is designed by Paperie Printables and is available on Etsy.
QUICK NOTE:
Love pretty, parties, crafts and free? All that I ask is that you don't be a stranger and CLICK HERE to follow me on INSTAGRAM or join the facebook group. Lastly, if you think your friends might like it, share the link to the post and pin the image below. So long as you do that, you can expect tons more freebies!
LIKE WHAT YOU SEE? PIN IT USING THE IMAGE BELOW!