The Top 8 Best Sublimation Printers for Beginners in 2023
Looking for the best sublimation printer for your crafting or creative business? I'm here to help!
*This post may contain affiliate links, which means if you choose to make a purchase, I may earn a small commission to pay for coffee at no extra cost to you. I greatly appreciate your support! SEE FULL DISCLOSURE HERE
I got started in sublimation many years ago, before it became widely accessible. My first sublimation printer was A LOT of money, and the replacement ink cost as much as the printer itself. Luckily, things have changed since then and there are more options available for beginners, hobbyists and small businesses. With so many things that can be personalized with sublimation, it's no wonder it's one of the most popular printing methods.
Below you'll find a few key details you need to know about sublimation printing and printers. Whether you're looking for a cheap, wide-format, beginner friendly, or the best printer for sublimating overall, I've got it covered!
FAQs ABOUT SUBLIMATION
The Best Sublimation Printer for Beginners
The Sawgrass SG500 is the perfect sublimation printer for beginners and hobbyists. It prints up to 8.5×14 and offers WiFi connectivity.
This particular kit also includes sublimation paper, ink, and sample blanks to get you started. Plus you can also enjoy the following benefits:
One on one setup & onboarding
Creative Studio with built in product templates
2 year warranty-with amazing support
The Best Sublimation Printer for t-shirts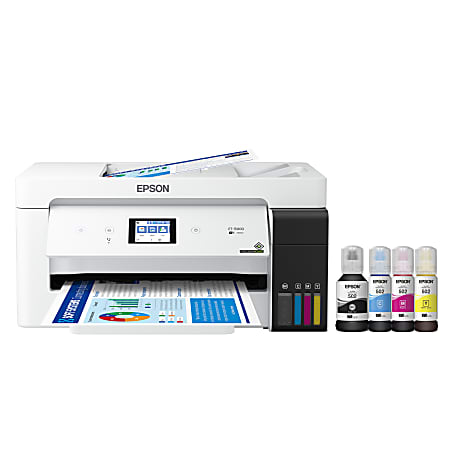 While the Epson EcoTank et-15000 is not a sublimation printer, it can be converted into one. When setting up, simply fill with sublimation ink instead of the ink that comes with it.
prints up to 13×19
holds a lot of ink
no cartridges, refill easy
This is the printer I personally use for sublimation. Just keep in mind, when you add sublimation ink, that you void the warranty and tech support is not provided via Epson.
The Sawgrass Virtuoso SG1000 is one of the best sublimation printers for t-shirts. It prints 11×17, but can print up to 13×51 inches with the optional bypass tray
This kit also includes sublimation paper, ink, and sample blanks to try out. Plus you can enjoy the following benefits:
One on one setup & onboarding
Creative Studio with built in product templates
2 year warranty-with amazing support
Keep in mind, because this is printer is a true sublimation printer, you do not have to worry about a voided warranty, because the ink that comes with it is made for sublimation.
The Epson EcoTank ET-8550 is another printer that can be converted to sublimation by adding sublimation ink. What sets this printer a part from the rest is that it uses 6 inks instead of the standard 4. Because of this, designs print beautifully with photo quality vibrancy.
Prints up to 13×19 inch sheet size
Copy/scanning capabilities
wide range of colors
The Epson SureColor PRO F570 24″ Dye Sublimation Printer is the best sublimation printer for t-shirts, especially if attempting larger designs and all-over prints. It's also perfect if you anticipate larger orders or subbing on larger products. Because this is specifically made for sublimation printing, there is no "converting" and is ready to use straight out the box. This particular bundle includes the following:
Prints sheets up to 11×17
Prints rolls of up to 24 inches wide
Built-in rotary cutter
Lifetime support
Sample blanks & $500 credit for designs
The Best Sublimation Printer for Cricut
While you don't need a Cricut to do sublimation, many people use designs from design space to print. While I recommend against this, because Cricut limits your print size capabilities, you still can.
If you find that you want to print from design space or your print designs will be smaller, such as standard letter size, you don't need a wide format, and just need a cheap and affordable sublimation printer to get the job done the printers below are great options.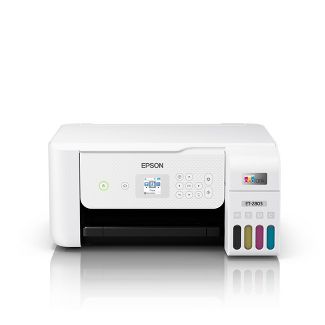 This EcoTank ET-2803 can be converted into a sublimation printer by adding sublimation ink during setup instead of the ink included. This is a great value and perfect for beginners and those using with Cricut.
Scanner and copying capabilities
Wireless, Apple AirPrint
Prints up to 8.5×47.2 inch
QUICK NOTE:
Love pretty, parties, crafts and free? All that I ask is that you don't be a stranger and CLICK HERE to follow me on INSTAGRAM or subscribe to my YOUTUBE channel. If you think your friends might like it, share the link to the post and pin the image below. Do that, and you can expect tons more freebies, tutorials, party inspiration, recipes and recommendations!
LIKE WHAT YOU SEE? PIN IT USING THE IMAGE BELOW!