Cricut vs Sizzix: Find the Best Die Cutting Machine
Want to learn the differences between a Cricut vs Sizzix? You've come to the right place! Discover if you need the Cricut, Sizzix or if you could benefit from both for your desired projects.
*This post may contain affiliate links, which means if you choose to make a purchase, I may earn a small commission to pay for coffee at no extra cost to you. I greatly appreciate your support! SEE FULL DISCLOSURE HERE
Today, we're taking a closer look into die-cutting machines and exploring the key differences between two industry giants: Sizzix and Cricut. As an avid crafter, I understand the importance of finding the right tools to bring our creative visions to life. Let's compare Sizzix and Cricut, discussing their pros and cons, the materials they can cut, and providing answers to commonly asked questions. I've created a table of contents to help if you want to jump ahead to a certain section.
So, grab your favorite beverage, sit back, and let's embark on this crafting adventure together!
Sizzix
Let's start with Sizzix, a trusted brand known for its exceptional manual die-cutting machines. Sizzix machines, such as the Sizzix Big Shot, Sizzix Big Shot Plus, Big Shot Switch Plus (which is the electric version) and the Pro, offers crafters the ability to cut various materials with precision and ease. Whether you're a beginner or an advanced crafter, Sizzix has something for everyone.
What is a Sizzix and How Does it Work:
At the heart of a Sizzix machine is the cutting pad, a thick, durable surface that acts as a foundation for your materials. The cutting pad provides a stable surface for the cutting process and protects the machine's mechanisms.
To begin, you select the desired die or die-cutting template that matches the shape or design you want to cut. Normal dies are typically made of steel and come in a variety of shapes and sizes. Place the chosen die on top of the cutting pad with your material on top of it.
Next, position another cutting pad on top of the material to create a "sandwich" configuration. The cutting pads protect the die and material during the cutting process and ensure clean, precise cuts. It's important to align everything properly to achieve accurate results.
Now comes the exciting part! Place the "sandwich" into the Sizzix machine, ensuring that the cutting pads are aligned with the machine's rollers. Using the machine's handle or crank, you rotate it, feeding the "sandwich" through the machine. As you turn the handle, the machine's rollers apply pressure to the cutting pads, pressing the die against the material. This pressure allows the die's sharp edges to cut through the material, creating the desired shape or design. If you feel manually cranking a handle will become tiresome, the Big Shot Switch Plus is electric and automatically feeds the material through, eliminating the need for cranking.
Once the "sandwich" has passed through the machine, you carefully separate the cutting pads to reveal your beautifully cut material. The precision of a Sizzix machine ensures clean, accurate cuts, regardless of the complexity of the design.
Sizzix machines offer crafters a hands-on approach to die-cutting, providing a tactile and engaging experience. They are perfect for beginners and advanced crafters alike, offering a wide range of materials and dies to unleash your creativity.
If working with thicker types of materials, instead of thin dies, you may find yourself needing a more sturdy one. A larger die with a wooden base to cut thicker material like leather is known as a steel rule die. These dies don't need to be sandwiched with cutting pads, simply place your material on top.
Materials You Can Cut with Sizzix:
The Sizzix can cut an array of materials, allowing you to explore a wide range of creative projects. Some commonly cut materials include the following:
Paper and cardstock
Fabric, leather, felt
Balsa wood
Vellum
Foam
What You Can Make with Sizzix:
The Sizzix can cut different materials, allowing you to explore a wide range of easy projects. There are so many fun ideas you can create. Below are just examples, but don't feel limited to this list.
Cards, invitations, scrapbooking layouts
Party decorations, favor boxes, pennants
Sewing projects, appliques
Leather earrings, hairbows, bracelets
Watch the Sizzix in Action
Sizzix Pros
Wide range of materials: Sizzix machines can cut materials like paper, cardstock, fabric, felt, and even thicker materials like balsa wood when using with compatible dies. The versatility allows you to experiment with different mediums for your projects.
Best value: manual die cutters are inexpensive compared to an electronic die cutter.
Embossing Capability: Sizzix not only cuts, but can emboss and add texture to cardstock and paper and give 3D feeling to paper crafts.
No computer needed: If you opt for manual, no electricity is needed, but no matter which machine you choose, a computer is not required to begin creating.
Various Sizes: Sizzix machines are available in multiple sizes to accommodate your needs. The Big Shot has a 6 inch opening, Big Shot Plus has a 9 inch opening, while the Sizzix Pro offers a 13 inch wide opening.
Sizzix Cons
Learning curve for intricate designs: While Sizzix machines can handle intricate designs, achieving accurate cuts might require some practice. Beginners may find it challenging at first, but with patience, you'll master the art of precise manual die-cutting.
Limited designs: The designs you are able to cut with manual die cutters are limited to the availability of the physical dies.
Where to buy Sizzix
Cricut
Cricut is a brand synonymous with crafting and electronic cutting machines. The Cricut Maker, Cricut Explore, and Cricut Joy are popular choices among crafters who prefer the convenience and versatility of electronic machines.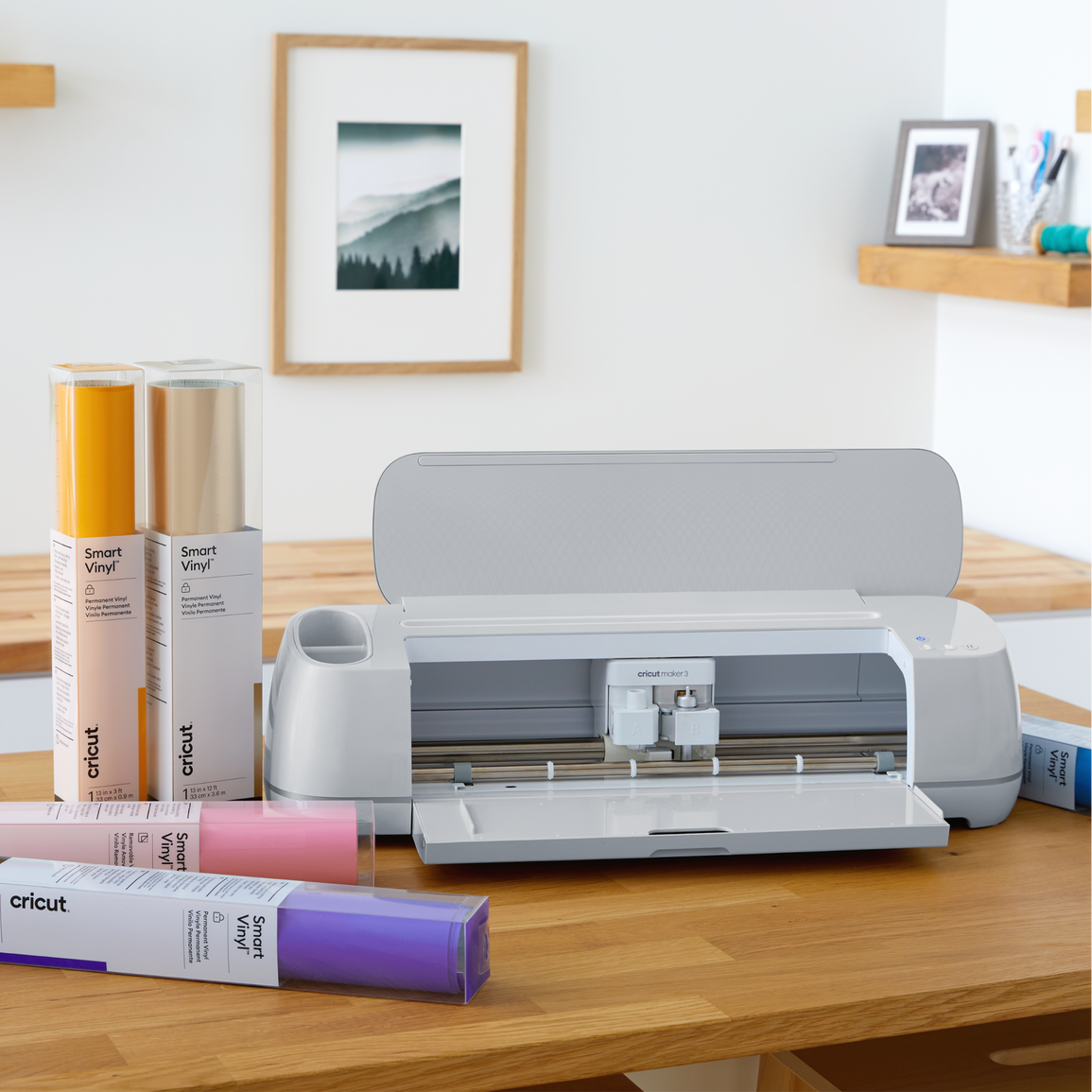 What is a Cricut and How Does it Work:
A Cricut is a brand of electronic cutting machines used for hobby crafting and small businesses. The Cricut Maker and Cricut Explore, similar to the Silhouette Cameo, uses cutting technology that precisely cuts various materials, allowing crafters to create intricate designs and personalized projects.
The foundation of Cricut machines lie in its cutting blade and housing. The blade is a small, sharp tool that can be interchanged with different tools, such as rotary blade, knife tool or scoring tool, based on the material you're working with. The blade housing holds the blade securely in place and allows for precise control during the cutting process.
To begin, you start by creating or selecting a design using Cricut's design program called Cricut Design Space software. The software is user-friendly and you have access to a library of pre-designed projects. Or you can choose to design your own project using various tools and fonts. You can also import SVG files or use ready-to-make projects for quick and easy crafts. Creative Fabrica is a great place to find various SVG files for designs or 3d favor boxes.
Once your design is ready, place your chosen material onto a cutting mat. The cutting mat acts as a stable surface and provides the necessary grip to secure the material and ensure it doesn't shift during cutting. Cricut machines come with different mat sizes to accommodate various project sizes.
Next, place the cutting mat with the material onto the machine's base and adjust the settings in the software to match the material you're using. Cricut machines have a range of settings to ensure accurate cuts, such as blade depth, pressure, and cutting speed.
With the settings configured, follow the on-screen instructions to send the design to the machine via a USB or Bluetooth connection.
The Cricut machine then uses electronic motors to move the cutting blade across the material, following the design's instructions. The blade glides along the designated cutting lines, applying the right amount of pressure to cut through the material without damaging it.
Once the cutting process is complete, you remove the cutting mat from the machine and carefully peel off the cut material, revealing your beautifully crafted design.
Materials You Can Cut with Cricut:
The Cricut can cut an array of materials, allowing you to explore a wide range of creative projects. Some commonly cut materials include the following:
Paper, cardstock, acetate
Vinyl
Fabric
Leather
Felt and foam
Balsa wood
Heat transfer materials
Adhesive-backed materials
Magnet sheets
What You Can Make With Cricut:
Cricut's versatility allows you to explore a wide range of creative projects. Below are examples of projects you can create, but the possibilities are endless:
Cards, scrapbooking layouts, and intricate paper art.
Custom decals, stickers, magnets and labels.
Sewing projects, appliques, and personalized textiles like tea towels.
Wallets, keychains, and accessories.
Plush toys, ornaments, and felt flowers.
Lightweight home decor, miniature models, and jewelry.
Custom apparel, such as t-shirts and tote bags.
Sublimation cups and coasters, when used with infusible ink
Watch the Cricut In Action
Cricut Pros:
Ease of use: Cricut machines, especially the Cricut Maker and Cricut Explore Air, are designed with user-friendliness in mind. Their intuitive interface and easy instructions make them accessible to crafters of all skill levels.
Wide range of materials: Cricut machines can effortlessly cut materials like paper, cardstock, vinyl, fabric, leather, and heat transfer materials. The ability to work with such diverse materials opens the door to endless creative possibilities.
Access to design software and community: Cricut's Design Space software offers a seamless experience for designing and cutting your own creations. Additionally, Cricut boasts a vibrant community of crafters who willingly share their expertise and provide endless inspiration.
Not limited by availability of dies: you can create your own custom designs or purchase svg cut files. You're not limited based off the availability of dies like you are with Sizzix
Various sizes and price points: Cricut Joy 4.5 inches wide, Cricut Joy Xtra 8.5 inches wide, Cricut Maker and Explore 12 inches wide, and Cricut Venture 24 inches wide.
Cricut Cons:
Higher price and additional costs: The electronic capabilities of Cricut machines come at a higher price point compared to manual die-cutting machines. In addition, you have to buy a subscription to have access to full features and designs.
Learning curve for complex designs: Although Cricut machines are user-friendly, creating intricate designs have somewhat of a steep learning curve. Taking advantage of the machine's full potential may take time and experimentation.
Where to buy Cricut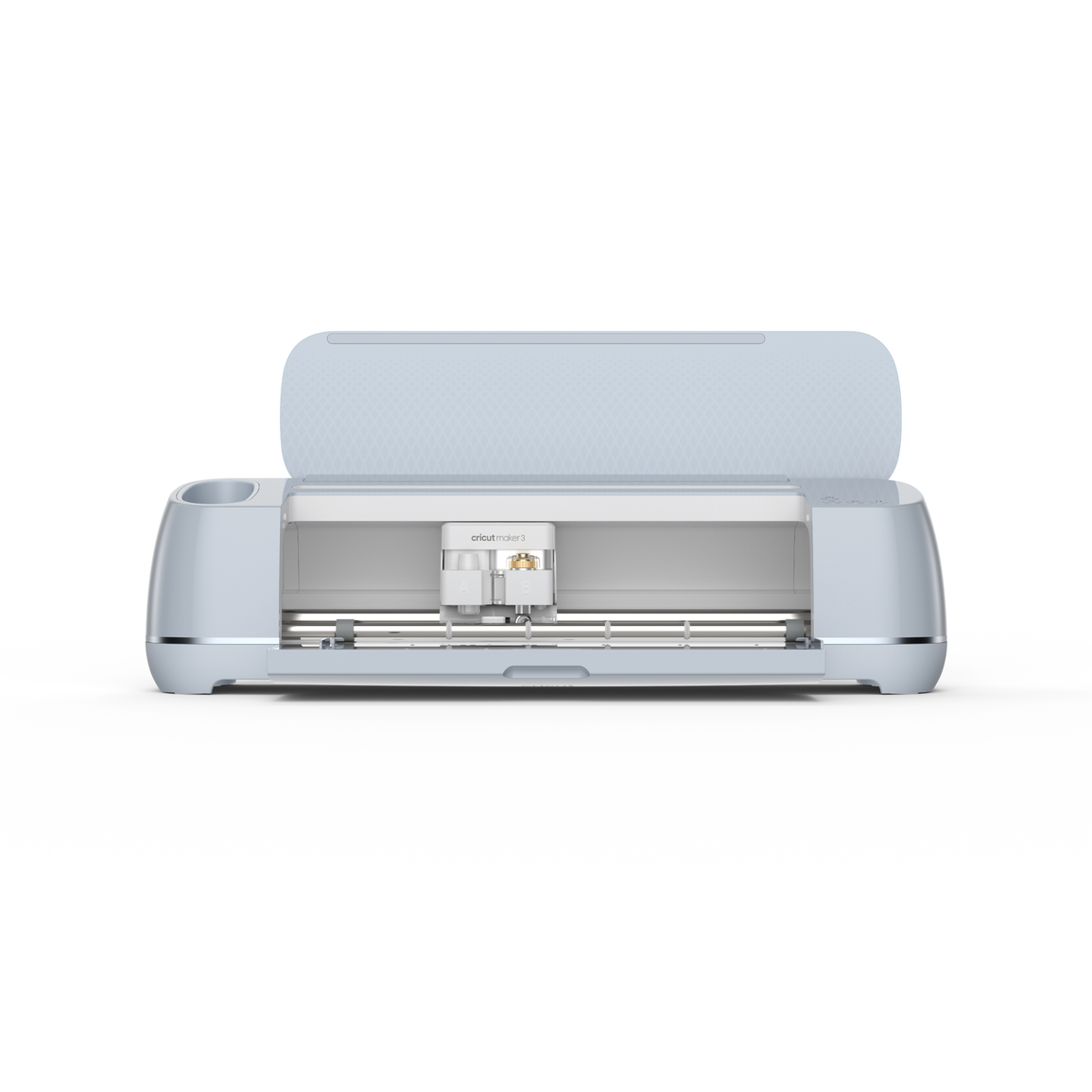 Buying Options
USE CODE: PPC10 FOR 10% OFF YOUR ORDER (INCLUDING SALES) ON CRICUT'S WEBSITE
Which should I buy?
Consider your specific needs, budget, and preferred crafting style when making a decision. Remember, the best machine is the one that aligns with your creative vision and helps you bring your ideas to reality.
If you are wanting to make bows and earrings or bulk of the same design or would like to add texture to your paper crafts, Sizzix is recommended.
If you plan to personalize shirts or gifts with vinyl, create stickers and labels, or plan on making many different styles and designs, go with the Cricut.
I personally, have both because they can definitely be complimentary to each other. While, I may use my Cricut to cut a single custom cake topper, I use the Sizzix to emboss and add texture to the paper I use for the cake topper. I also use my Sizzix to cut multiples of smaller favor boxes, to save a lot of time.
Hopefully this helped you to see the difference between Cricut vs Sizzix. Now you can create beautiful and memorable projects with the perfect cutting machine (or machines) by your side!
Happy crafting!
QUICK NOTE:
Love pretty, parties, crafts and free? All that I ask is that you don't be a stranger and CLICK HERE to follow me on INSTAGRAM or subscribe to my YOUTUBE channel. If you think your friends might like it, share the link to the post and pin the image below. Do that, and you can expect tons more freebies, tutorials, party inspiration, recipes and recommendations!
LIKE WHAT YOU SEE? PIN IT USING THE IMAGE BELOW!