Best Printer for Crafting and Party Favors
If you are a crafter looking for a new printer, you've come to the right place. Check out our list to find the best printer for crafting and party favors. This list includes the best inkjet printers and laser printers to consider for your crafts, party printables and decorations.
*This post may contain affiliate links, which means if you choose to make a purchase, I may earn a small commission to pay for coffee at no extra cost to you. I greatly appreciate your support! SEE FULL DISCLOSURE HERE
My introduction to crafting started with invitations and gradually moved into party favors and other paper crafting. I've personally used both inkjet and laser printers as well as various brands of printers. I lean towards inkjet printers for the bulk of my prints, but I definitely still use my laser printer, and recently purchased another laser printer (seriously, like 10 minutes before typing this).
If you're looking for the best printer for Cricut print and cut, check out this post. Searching for sublimation printing suggestions, give this a glance for details on the best sublimation printer. On the hunt for the best paper for party favors, visit here. But if you're looking for the best printers for crafting and printing invitations, favor boxes, chip bags, tags, party printables and party favors, this list is for you.
When viewing this list, keep in mind what you will be printing, If you will be printing on card stock, you want something with a rear tray. If you will be printing art prints, consider a printer that prints borderless and has more than the standard 4 colors. If you're looking for a printer for home office use, pay attention to the laser printers on the list because of print speed.
Now, let's take a look at the best printers for crafting.
The Best Inkjet Printer for Crafting and Party Favors
Let's start with my favorite printer that sees daily use. I personally use the Epson Ecotank ET-8550 for my invitations and party favors (along with the discontinued Epson et-7750) and think it is the best option. This high-quality printer is amazing,
It features 6 ink colors instead of the standard 4, which produces amazing photo quality images. Because it is an EcoTank, it doesn't use ink cartridges and you can go months before needing to refill.
borderless prints up to 13×19
print on cardstock and specialty media up to 1.3mm thick
Auto 2-sided printing
wireless connectivity
I also use the Ecotank ET-8500 and it is another great printer for crafting and party favors. It features 6 ink colors as well and produces vibrant colors. The main difference between this and the et-8550 is the size and price, as this prints smaller and is less expensive. So if you do not need to print as big and looking for something slightly less expensive, this would be the better option.
print up to 8.5×14
print on card stock and specialty media up to 1.3mm thick
Auto 2-sided printing
Canon definitely created a printer with crafters in mind with the Canon ts 9512C. The "C" actually stands for "crafters". It is an excellent choice at an affordable price.
Prints borderless 12×12
Prints borderless 7×10 to create 5×7 folded greeting cards
Built-in printable patterns
The only downside is that this particular model still uses cartridges, which adds up.
The OfficeJet Pro 7740 is a great option if you don't print every day but still need a wide-range of options. While it does not have a refillable ink tank, ink cartidges are available in XL for high yield printing.
Prints up to 11×17
All-in-one copy/scan/fax
Auto-duplex printing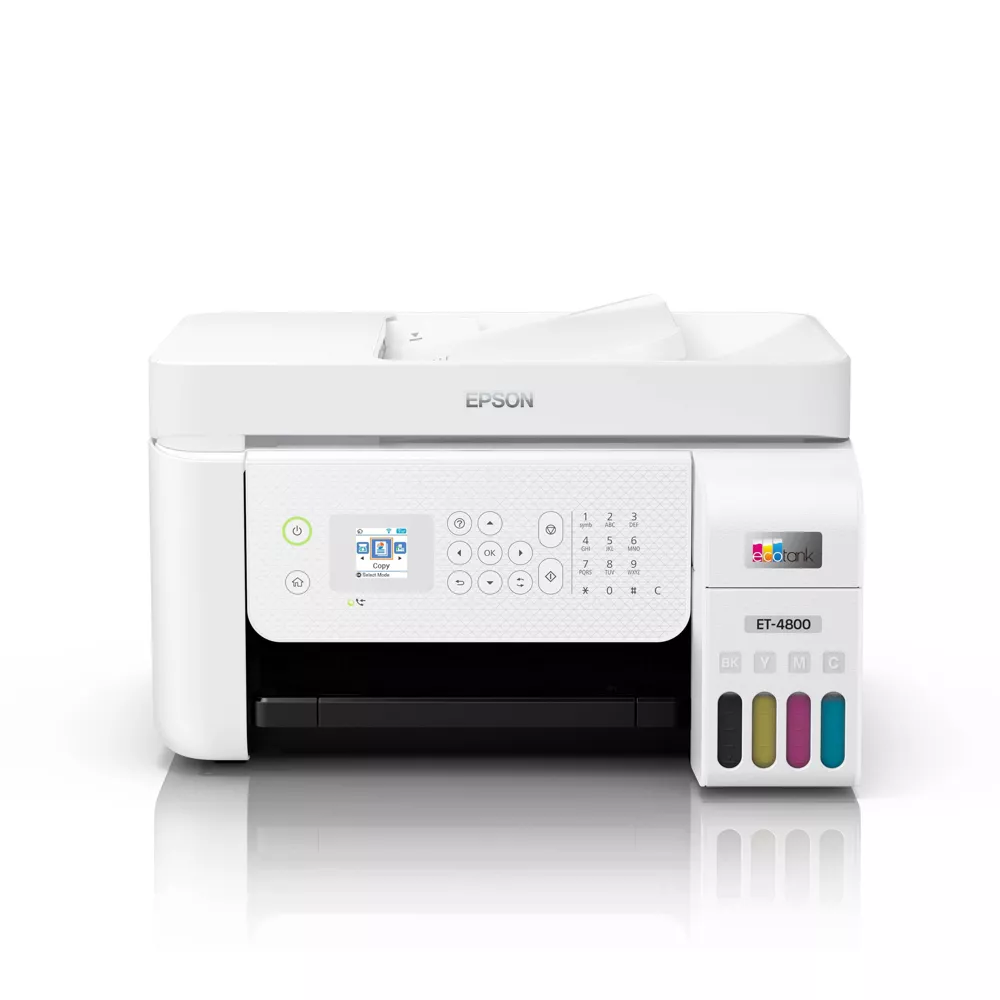 The Epson Ecotank ET-4800 is another good printer if you do not need to print wide format. It's a more affordable option, but with some limitations. However, I can not stress enough how much I love EcoTanks and the long lasting refillable inks
Print, copy, fax and scan functionality.
Wireless printing
Limited to 4×6 borderless printing. Maximum print size is 8.5x47in
Prints on various media including glossy photo, plain, matte, sticker paper, cardstock, magnetic sheets, iron-on transfers, envelopes and more.
LEARN TO MAKE YOUR OWN CHIP BAG PARTY FAVORS
This course shows how to design party favors using Photoshop. PLUS, it includes free templates and mockups to get you started!
The Best Laser Printer for Crafting and Party Favors
While inkjet printers are the preferred printers of many crafters, there are times when laser printing is the better choice. For example, high volume for coloring book pages, planner pages, or foiling craft paper would be better suited for a laser printer.
One of the major advantages with laser printers is the print speed. The Laserjet Pro M454dw does not disappoint. You'll be able to print 100s of pages in minutes.
Prints 28 pages per minute
Print, copy, and scan
Wireless printing
Max print size 8.5x14in
Automatic double-sided printing
If you're in search for a small, inexpensive laser printer for black and white print (for coloring book pages or foiling projects) the LaserJet M110we is a good option as a secondary printer.
Prints 21 pages per minute
6 months free toner
Max print size 8.5x14in
Enroll in Instant Ink to save up to 50% on toner and never run out.
CONCLUSION
My Top Pick: Epson ET-8500/8550
Epson EcoTanks are high quality printers that print high resolution images with amazing print quality, and is a personal favorite. I highly recommend the Epson ET8550 and ET8500, which are both professional photo printers. Grab the et8550 if you need to print on paper up to 13×19. Grab the et8500 if you know you only need to print on standard size paper.
However, a Canon printer, such as a Canon Pixma printer or an HP Envy are affordable printers you should consider as well, especially if you're just starting out and on a budget. For the best results, the most important things are to ensure you have high quality paper, ink/toner, and the proper print settings. These can yield superb image quality, no matter the printer.
Honestly, there is no such thing as the "perfect printer". That's probably why I have 5 (with another on the way). But you can definitely find the "right printer" for your crafting needs.
QUICK NOTE:
Love pretty, parties, crafts and free? All that I ask is that you don't be a stranger and CLICK HERE to follow me on INSTAGRAM or subscribe to my YOUTUBE channel. If you think your friends might like it, share the link to the post and pin the image below. Do that, and you can expect tons more freebies, tutorials, party inspiration, recipes and recommendations!
LIKE WHAT YOU SEE? PIN IT USING THE IMAGE BELOW!