The Top Best Heat Press Machine in 2023
Looking for the best heat press machine for crafting or your creative business? I'm here to help!
*This post may contain affiliate links, which means if you choose to make a purchase, I may earn a small commission to pay for coffee at no extra cost to you. I greatly appreciate your support! SEE FULL DISCLOSURE HERE
Choosing the best heat press machine for your needs can seem overwhelming. That's why it's important to ask yourself what type of projects you plan to use it for, how often you plan to use it, and how much you are willing to invest. Consider the size of the press, the features it offers and what type of warranty or support is provided.
Whether you're looking for a heat press machine for your sublimation projects, vinyl designs, heat transfers and more, there's a heat press to fit your needs. And while you can definitely get away with using a basic home iron for simple crafts, a heat press machine is needed for more efficiency, consistency, productivity, and ease of use.
To get the most out of your heat press machine, you'll want to pair it with a sublimation printer, cutting machine like a Cricut, Cameo, or Juliet, or you can purchase custom transfers.
Below you'll find the answers to a few FAQs and our list for the best heat press machine for small businesses and hobbyists. When creating this list, we kept price, support, size and features in mind. We also did not consider specialty heat presses. The best mug press, hat press, and tumbler press all deserve their own list. But, whether you're looking for a cheap, large, beginner friendly, or the best heat press machine overall, I've got it covered!
FAQs About The Heat Press Machines
The Best Heat Press Machine
The Signature Pro comes in a portrait size 16×20 or a landscape size 16×24 (which is perfect for rugs and graduation stoles). This size is a great option for those doing larger projects.
It has an exclusive feature called SurePressure that allows you to have reference points for your pressure settings. Once you find the perfect amount of pressure for a particular material, make a note of the pressure number, and replicate the results each time, by having the right amount of pressure.
SurePressure
Auto-open
Pull-out clam shell style
1/2 inch thick material handling capabilty
Amazing customer support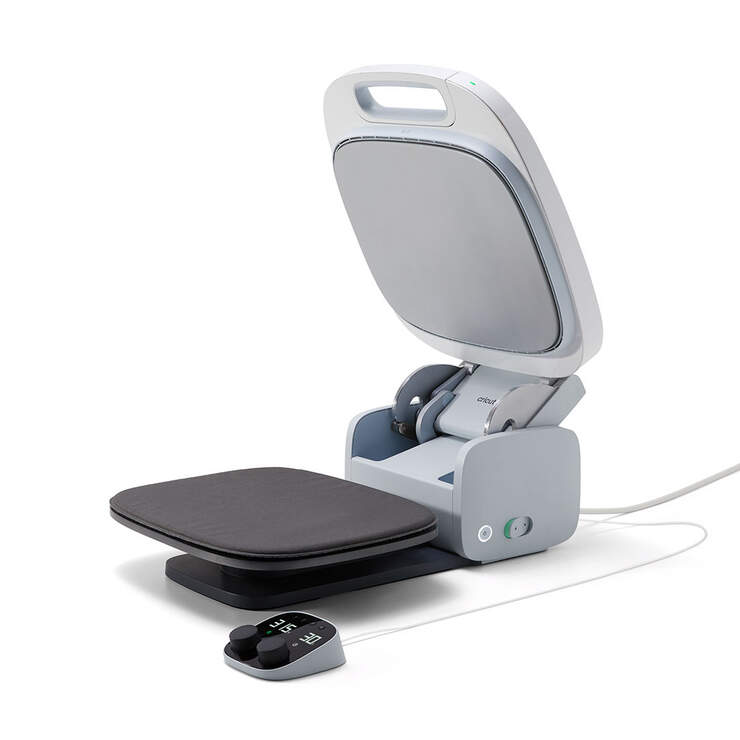 The Cricut Autopress is a great heat press to have that is home-friendly but has commercial power and features. Safety features were kept in mind, with a cool to the touch outside surround, and auto-off feature.
The digital controls allows you to save frequently used settings. This is an ideal choice for home users needing a high quality Cricut heat press.
15×12 heating plate
Zero Effort™ ease to close & auto-release
Auto-adjusts to materials up to 2in thick
The CraftPro heat press is available at Heat Press Nation in this 15×15 size, but also in a smaller 13×9 size if you work with smaller substrates.
Includes a 1 year warranty with amazing technical support. Also available in multiple colors
Clam-shell slide out drawer
Auto Start Timer
Consistent Pressure
Maximum temp 400F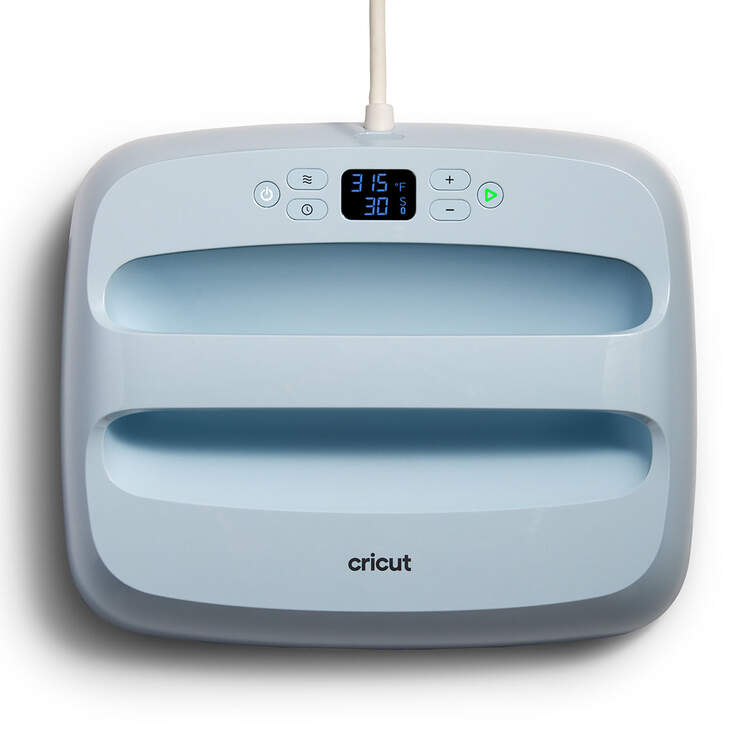 The Cricut EasyPress 3 is a good option for someone looking to upgrade from their home iron, to something a little more advanced, but still space saving and user friendly. Plus, it's affordable price makes it a good reason to buy for small projects or quick t shirts.
12×10 size
Connects to Cricut Heat app
Portable and amazing support
The Swing Design 15×15 heat press is an affordable option for those looking to upgrade from a cricut easy press, but not quite ready to make a steep investment. This comes in different models for different sizes, various colors and there is also a swing-away heat press version.
Clam shell 15×15
Maximum Temperature 480F
Lifetime support
$200 So Fontsy Design Store credit
includes easy pressure adjustments, auto-off adjustable timer, and attachments for different materials.
Attachments for hats, various size mugs, shot glasses and plates, included. The temperature range for this heat press cam reach higher temperatures than others on this list
Swing Away Design
Maximum Temperature 450F
1 year warranty
Heat Press Nation's Black Series 15×15 heat press is another amazing heat press machine to consider. A bonus of having a swing away design, means that it can float directly above your shirt! This makes it perfect for not only regular heat pressing, but also for curing DTG, screen prints, and DTF transfers.
Max temp 400F
4-degree accuracy range
Lifetime Technical Support
If money is not an option, this Hotronix Dual 16×20 heat press is the machine you need to increase productivity when pressing garments.
Using the touch-screen panel, you can program two different jobs and the heat press will automatically adjust the temperature, time and pressure as it moves from station A to B. The Hotronix Fusion IQ is great for a higher volume custom t-shirt business
Touch screen stores frequently used settings
Includes laser alignment system
Auto-Adjust Time, Temp, Pressure
QUICK NOTE:
Love pretty, parties, crafts and free? All that I ask is that you don't be a stranger and CLICK HERE to follow me on INSTAGRAM or subscribe to my YOUTUBE channel. If you think your friends might like it, share the link to the post and pin the image below. Do that, and you can expect tons more freebies, tutorials, party inspiration, recipes and recommendations!
LIKE WHAT YOU SEE? PIN IT USING THE IMAGE BELOW!